70% of new Covid infections take place at home, new study
Research reveals the rest of new cases come from social outings, work or school environments, or in hospitals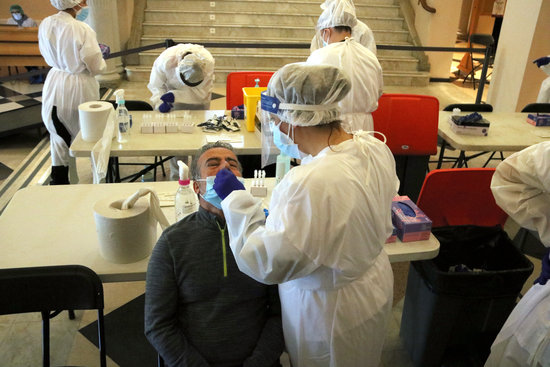 Research published by Catalan public television station TV3 shows that some 70% of new Covid-19 infections are taking place in the home.
Of those, 58% of new cases occur between people living in the same home, while 11% come from visits of family or friends.
The study points out that infections usually occur because one or some of the members of the household bubble have interacted with another bubble in exterior environments.
Of the remainder of new cases, 14% come from social gatherings outside the home, 7% occur in the workplace, 5% in schools, and 2% in hospitals and geriatric centres.
The study was undertaken by the Catalan Network of Epidemiological Vigilance, part of the Catalan government's public health agency (ASPCAT).
The report takes into account all infections through the month of December but does not count the city of Barcelona, the data of which is yet to be entered.
Covid measures extended
The Catalan government has extended the Covid-19 restrictions currently in force for one more week, facing the sharp worsening of the pandemic.
In a press conference on Thursday early afternoon, health minister Alba Vergés announced that the restrictions in place since January 7 that were expiring on January 17, will now be in operation until at least January 24.
This means that residents in Catalonia will still not be allowed to leave their municipality of residence without having a justifiable reason, which includes work, study, returning home, going to health centres, care of dependent relatives, demonstrating and force majeure.
Only shops of up to 400 sqm are allowed to open on weekdays under these measures, but retail has to remain closed at the weekend except for those providing essential goods.
Restaurants can only open their premises during breakfast and lunchtime hours, while only takeaway and delivery services are permitted in the evening.
As for theatres, cinemas and concert halls, they can open at 50% capacity with a maximum capacity of 1,000 people, as long as there is sufficient ventilation and access is controlled, otherwise, the capacity remains at 500.
20% more ICU patients
Speaking at Thursday's press conference, Vergés stated that the goal of stopping the increase in transmissions has not yet been achieved.
"We cannot say the virus is not spreading as is happening elsewhere. The spread is not exponential, but the number of cases keeps on growing, which is why we are extending restrictions," she said.
"The number of ICU patients grew by 20% this week. We are far from having a balanced number of hospitalizations and discharges," public health secretary Josep Maria Argimon noted.