1,500 medical personnel treated for anxiety, depression, and insomnia due to pandemic
Foundation director believes that the demand for psychological services is still below the true level of the problem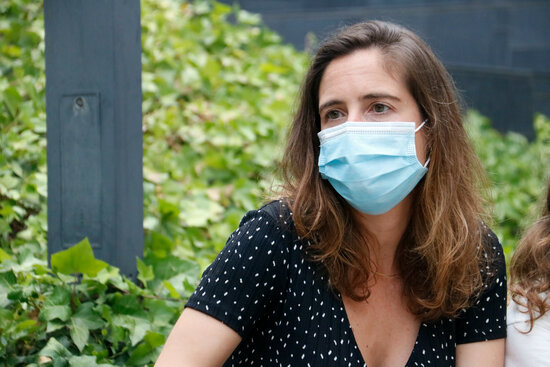 Nearly 1,500 medical workers have received psychological care since the outbreak of Covid-19, particularly for anxiety, depression, post-traumatic stress, and insomnia.
The Galatea Foundation, the body created by the Council of Medical Associations of Catalonia to ensure the well-being of health professionals, has also treated doctors and nurses in groups as well as individually.
The foundation's director, Antoni Calvo, believes that the demand for these services is lower than the true level of the problem.
He also warns that the emotional damage is not over for health workers with accumulated fatigue yet to take its toll. "Today, being a health professional is to work in a risky profession with respect to mental health."
More than 5,500 counselling sessions have been done and 64% of those who received care have been discharged from treatment. A total of 86% of medical professionals who sought care are women.
For a time, they were held up as the 'heroes' of the pandemic, but Antoni Calvo points out that doctors and nurses are humans who are subject to emotional fatigue like everybody else.
In the early stages of the pandemic, an average of three sessions were required by the healthcare workers, but that has since risen to seven.
"Burnout"
Sandra Audi, a family doctor who asked Galatea for support, spoke to the Catalan News Agency about the fear and stress she felt at the beginning of the health crisis and the effects of wear and tear it has had.
"They sold us as superheroes and I bought into it because I had to leave the house. But it's a double-edged sword. When you buy into it, it's like you're not allowed to get sick," Audi reflects.
She got support from the Galatea Foundation a few months after the pandemic broke out when she realized she had entered a "hurricane in which everything was Covid, Covid, and Covid" and that the pandemic would be a "long-distance race."
After the first wave, she had particular difficulty in separating her personal life from professional life. "For many of us this job is a vocation and we always do what is needed. But this 'what is needed' has a limit, and for me, that limit was my daughter. I have a family, a life and I also have to protect myself."
In her case, she explains, it was not difficult to ask for help: "I've always worked and I try to be quite connected to how I feel. I recognized it quickly and it was very obvious because there were two of us going through the same thing at home."
She also wrote in a personal diary, which allowed her to work through her feelings and reflect on how she wanted to deal with the pandemic. Despite the emotional impact, the doctor was able to continue working.
Fifteen months later, she is optimistic, the vaccine rollout is picking up pace, and she sees the light at the end of the tunnel. Still, she notices the tiredness. "I have a feeling of burnout. I like what I do, but I'm exhausted."