12-to 17-year-olds could begin to be vaccinated two weeks before school year starts
Spain's health ministry will suggest date contingent on consensus among regions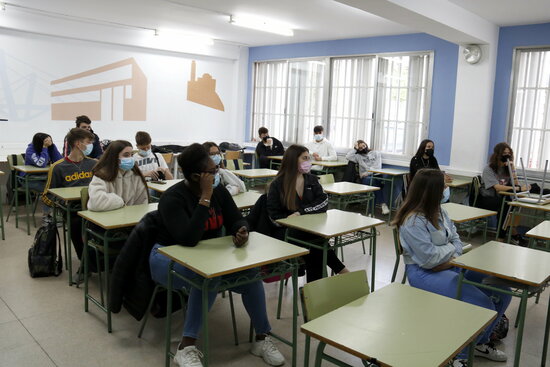 Spain's 12-to 17-year-olds could begin to be vaccinated against Covid-19 two weeks before the upcoming school year begins next September.
Speaking to public Spanish broadcaster TVE on Friday, Spanish health minister Carolina Darias explained that her ministry will first propose setting this date in the Public Health Committee before seeking consensus among the regions in an interterritorial health meeting.
This comes a week after the European Medicines Agency approved the use of the Pfizer-BioNTech jab for 12-to 15-year-olds, becoming the first Covid-19 vaccine greenlighted for under 16s.
Jabs at secondary schools
On Saturday, Catalonia's education minister, Josep González Cambray, said that children between the ages of 12 and 17 could possibly be inoculated at secondary schools depending on the timeframe established by Spain.
"If vaccinations for this age group begin in August, we'll obviously not administer them at secondary schools," he told Catalunya Ràdio. "But if they begin in September, then we'll most likely vaccinate our youth there," he said, stressing that PCR screening had already successfully taken place in such venues.
Vaccination rollout campaign
As of June 3, 2021, 2,956,063 residents have been given the first dose of the vaccine, 37.7% of the total population. Out of those, 1,557,492 have also been administered the second dose (19.9% of the total population). 1,660,779 residents are considered to be fully immunized (21.2% of the total population or 25% of those 16 and older).