'Vermut': More than just a drink in Catalonia
The whole early afternoon is dedicated to enjoying the beverage and its accompaniments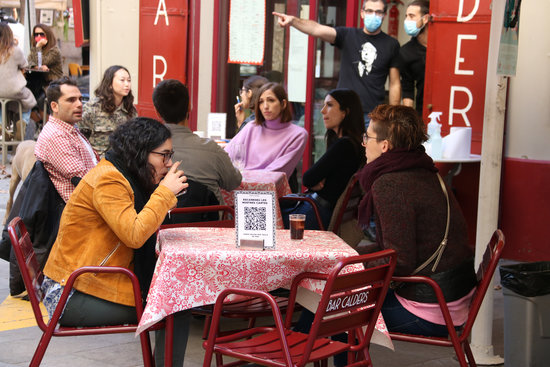 'Vermut', or vermouth, is undoubtedly one of Catalonia's favourite drinks - there's even a whole time of day named after it, 'l'hora del vermut', where people come together before lunch to enjoy the appetizer accompanied by a variety of snacks.
Vermut comes from fortified red or white wine, with herbs and alcohol being added later in the process. The drink is so popular, that a lot of wine cellars and bars produce their own variety to sell to thirsty customers.
It is then served in short glasses filled with ice, a slice of orange and an olive on a stick. Olives also often accompany the drink, as do other little snacks such as anchovies and cheese.
Many bars in Catalonia, especially in its capital, Barcelona, are called 'vermuteries' and are dedicated to selling vermut and anything that goes with it.
One of those bars is Morro Fi, owned by Marcel Fernández and located in the city's Eixample district.
Fernández explained to Catalan News that while there are varieties and alternative ways to drink it, most people like their 'vermut' the traditional way. "Red vermouth is the most sold, but the white wine and the reserva are also well-known", he said.
He added: "We have a special recipe here where we mix gin with vermouth, it's very successful as well, but mainly it is served rough, with ice and a slice of orange and a stick with an olive."
L'hora del vermut
The ritual around 'vermut' has become so popular in Catalonia that it has arguably even superseded the drink.
For instance, the phrase 'fer un vermut', directly translating to 'do a vermouth', has now grown to refer to the general activity of going for a mid-day catch-up with friends at a bar. Often, no one will even order the drink, but rather spend time enjoying a beer or some tapas instead.
In Catalonia, lunch is usually around 2 or 3pm, so anytime before then is time for a vermut.
Fernández confirmed this, saying that it's an "appetiser", so therefore "the hour of vermut is from 12 to 2, or 3, more or less, in the afternoon".
"Everyone drinks vermut", he added, including "young people, middle-aged people and older people."