The life-changing 1915 transatlantic journey of Maria Branyas, the world's oldest person
Mesmerizing stories from humanity's beacon of longevity, such as crossing Mexico-US border and dramatic wedding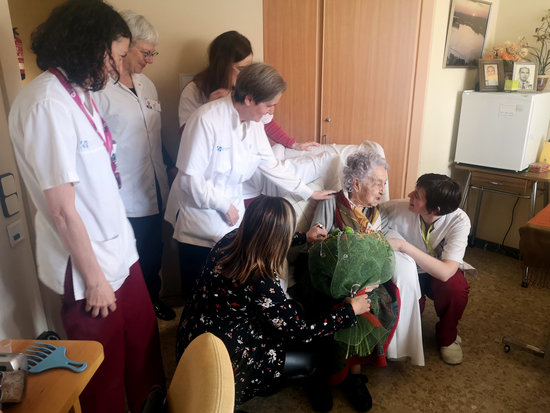 Maria Branyas is a Catalan resident who became the world's oldest person on January 17 at 115, and on March 4, she turned 116 years old.
Hers has been a calm life at Residència Santa Maria del Tura care home in Olot, northern Catalonia, for over 20 years.
Yet, it has not been as quiet over her very long life. Check out our latest Filling the Sink podcast episode to find out more details about her story.
It all started in Mexico in 1906, when her family decided to move to the United States through the border at El Paso, Texas aboard the Southern Pacific train line.
Maria's parents were among the passengers, along with their two eldest children, and with Maria inside her mother's belly.
"It was an uncomfortable train, it was very hot and they had to wait for hours queuing, as well as face immigration-related problems," Maria explained on her Twitter account in May 2022.
"The arrival in San Francisco was chaotic, it was a city under reconstruction." The Californian city had just experienced a massive earthquake.
Maria was born five months later, on March 4, 1907, in a small house at 1571, Powell Street, and she had already lived a great experience before even being born. "Your birth was heroic," her mother would tell her when she was a teenager.
The family then moved to New Orleans, where Maria has some of her earliest memories. Responding to a written questionnaire by Catalan News a few days ago, she explained that she still remembers living very close to Audubon Park, and climbing some of its trees.
Not much later, Earth's oldest person probably went through her most life-changing experience: a transatlantic journey by boat from the US to Europe. As she explained on social media, the ship was named 'Catalina' by the company Vapores Pinillos Izquierdo y Cía – her family even knows that it was manufactured in Glasgow in 1893 and dismantled in Genova in 1924.
Her journey was in 1915 when the world was at war. "At the time, Germany was attacking the North, and the ship could not cross the northern seas, but had to go south. Through the Azores, Cuba and so on," she remembered in an interview with this media outlet in 2019.
Yet, what made this journey especially relevant for her were far more personal stories. While playing with her siblings on board, she fell from the upper deck to the lower one and became deaf in her left ear for the rest of her life after damaging her eardrum.
Also, tragically, her father, 37, died of tuberculosis on board. Her mum, 34, seeing herself alone with four kids, decided to settle in Catalonia, where the family was originally from.
Her family began her new life in Banyoles, in northeastern Catalonia, where she grew up, developed her hobbies, such as playing with dogs or practicing the piano —she played this instrument until the age of 108—, played tennis and, eventually, got married in 1931 to Joan, a doctor-to-be.
Yet, it was a bit of a messy day for them. The wedding was supposed to take place in Santuari dels Àngels, in the Girona area, on July 16, 1931, at noon. Yet, the bride and groom, together with the guests, helplessly waited for the priest for a long time "until a man came and said he would not show up because he had died," she explained on Twitter. A replacement was found and eventually, the ceremony took place at 7pm – and the wedding lunch became a wedding dinner.
Yet, her marriage was a success and only ended when Joan died 46 years ago –in 2019, Maria's family told Catalan News that she became a mother of three, had 11 grandchildren and 11 great-grandchildren.
For her, all of her life is key to understanding her longevity, because her secret has always been "an orderly life; very pleasant socially, and well, a life without excesses."
"Love for my children, to see they're all safe and well, that's why I carry on," she explained in the interview in 2019. "For the younger ones too, teenagers going to university, starting a new life. Let's see what they find. They'll have to make a big effort to fight for this new life."
Back then, Maria was somewhat pessimistic about the present, saying that there are no leaders with enough talent to lead politics, and "everything nowadays is about money." She was nostalgic about the past but at the same time acknowledged communication is much easier now than when she was a child.
Now, as humanity's beacon of longevity, and responding to the recent questionnaire ahead of her birthday, she said it is "all about good luck and good genetics."
A good diet and way of life, along with good relationships with one's family and friends, are also some of her secrets to reaching such an old age – also, not having had any major diseases or surgeries, as well as surviving Covid with only mild symptoms.
Her journey, which started over a century ago, is still going and going.