Catalonia's senior-most citizen survives Covid-19 at age 113
Maria Branyas, from Olot, could be world's oldest person to overcome virus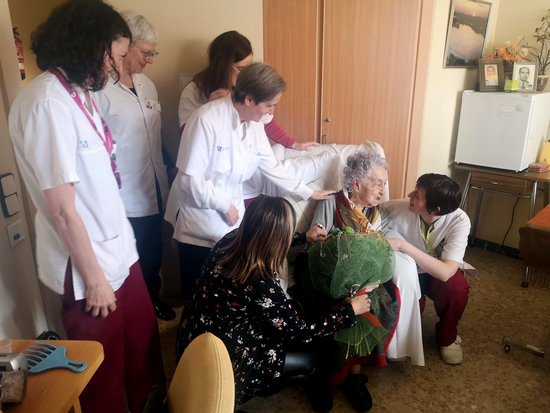 Maria Branyas, who at 113 is Catalonia and Spain's most senior citizen, has overcome Covid-19 having experienced only "mild" symptoms and becoming quite possibly the world's oldest person to survive the disease.
Her family members and workers at the Santa Maria del Tura care home in Olot, in northern Catalonia, where she has lived for the past 20 years have confirmed that Branyas is doing well, but her daughter Rosa Maria told the Catalan News Agency of how worried they were just a few weeks ago.
The center confirmed 17 coronavirus-related deaths among its elderly residents on April 1, which is why only one caregiver has been allowed to enter Branyas' room for the duration of the health crisis, but despite this, around mid-April Branyas herself was diagnosed following a PCR test.
Rosa Maria hasn't been able to see her mother but has spoken to her every single day and says she is "calm and optimistic." As for all the media attention Branyas received slightly over of a month ago on her birthday, she says her mother downplays the importance of her age and claims the only secret to her longevity is "being healthy" throughout most of her life.
Born on April 4, 1907, to a Catalan family in San Francisco, California, Branyas moved to Catalonia as a young child and has memories dating far back to World War I as well as the Spanish Civil War.