Pyrenean ski stations open ahead of early December holidays
Over 7,300 flights from Barcelona and 800,000 available seats for medium and long-distance trains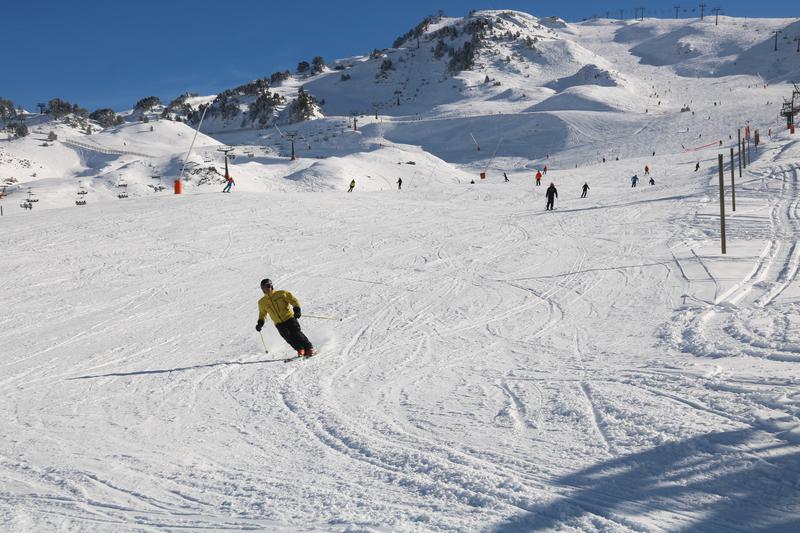 The vast majority of Catalan ski stations will be open on Saturday before the early December 'Pont de la Puríssima' holidays, which will see residents enjoying up to nine days off. Some of these ski resorts had already started working earlier this week.
The north-western Baqueira Beret ski station in Naut Aran was the first to open the season in Spain, and therefore in Catalonia, on November 26, after a combination of real and artificial snow coated up to 40 kilometers of ski slopes.
On the first day, skiers in the Val d'Aran, a Pyrenean valley with a distinct history, culture and language, were able to enjoy 23% of the 170 kilometers of slopes the station has this season.
For these 'Pont de la Puríssima' holidays, Xavi Ubeira, the commercial director, hopes to have even more slopes open.
"This has been the perfect start to the season full of hope," he said before adding that "people are enjoying impressive powder snow with desirable conditions." For the company, it was very important to be able to open before the early December holidays to have everything "at full speed."
But Baqueira Beret is not the only ski station looking forward to the many days off Catalans will enjoy.
The over a dozen resorts in Lleida's Pyrenees area expect to reach similar sales levels to the previous season when they sold around 1.5 million ski passes.
For the vast majority of these resorts, the increase in energy prices has forced them to raise the cost of the seasonal passes. However, they do not expect any problems as ski is like an "addiction," and people cannot live without it, Joaquim Alsina, the Ski stations' association president, said during a press conference with other ski resort representatives.
'La Masella' ski resort opened on Friday with up to 32 kilometers of slots and continues to produce artificial snow to be able to open between two and four more kilometers ahead of the holidays.
"We have good expectations," Maite Martí, commercial and marketing director from the resort, said to the Catalan News Agency (ACN).
The station has many bookings already confirmed for these upcoming days, especially with the good weather they are having.
"We are very happy. As you can see, we have cold weather, which allows us to have very good quality powder snow and this amazing sun the first skiers of the season have been able to enjoy, " she said.
60% hotel occupancy
Hotels are also getting ready ahead of the many days off, as between Saturday, December 3, and Sunday 11, owners expect hotel occupancy will be between 60% and 65% in Lleida's Pyrenees.
Most booked nights are from Wednesday, when hotel companies expect to be at around 80% occupancy on average.
Almost pre-pandemic trip levels
The early December holidays have been one of the most exciting excuses to go for a trip somewhere after the Covid-19 pandemic and the opportunity of taking up to nine days off.
For these days, Barcelona has around 7,346 flights planned, from Friday until Sunday 11, representing 92% of the ones that departed or landed in 2019.
The train service has also seen a significant increase, as medium, long-distance, and high-speed trains will offer around 800,000 seats.
Roads are also an option to go on a break, and therefore the Catalan traffic agency expects around 470,000 cars to leave the Catalan capital during the first weekend of the holidays.
Environmental activists against "millions" in investment
Ski resorts have been using artificial snow to prepare for their grand openings, something Stop JJOO (Stop Olympic Games) environmental activists disagree with.
The Stop JJOO platform was created to protest the 2030 Barcelona-Pyrenees Winter Olympic Games bid that the Catalan government was working on with the support of other administrations.
After the potential bid was ruled out, Stop JJOO now complains of "millions" of taxpayers' euros that are used to maintain and enlarge these resorts that "will become obsolete and abandoned" in the future due to climate change, Marta Ramírez, a member of the platform said during a protest in La Cerdanya's La Molina ski station.
For the group, businesses should focus on offering different sports to diversify the Pyreenes' economic activity and increase public services for residents that live in the area permanently.
Ski stations are making artificial snow during a time of drought and an energy crisis, with prices at "never seen levels," she said before adding that "it cannot be that during the week, towns are deserted, and during weekends and long holidays, people rush to the Pyrenees to spend money."