Catalonia will vie to host 2030 Winter Olympics – without Aragon
Spanish Olympic Committee will have to greenlight proposal Catalan government says they are "perfectly capable" of handling alone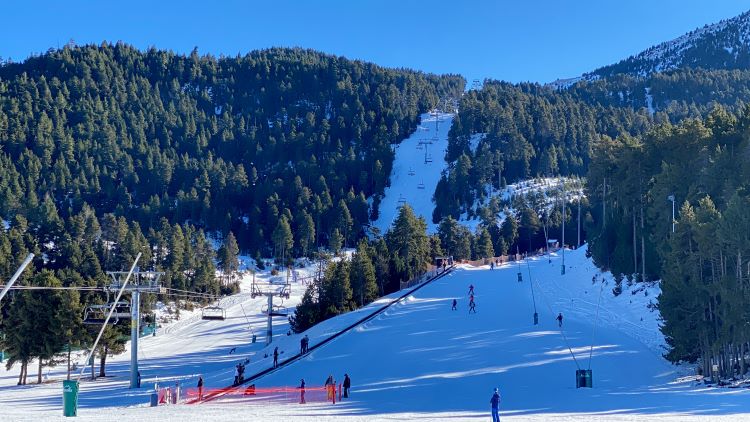 Catalonia will put forth a bid to host the 2030 Winter Olympics in the Pyrenees. But after months of arguing over which competition should take place where, the Catalan government has decided to move forward without the neighboring region of Aragon.
This proposal, however, will have to be greenlighted by the Spanish Olympic Committee (COE), which was keen on having the two territories find a consensus.
"We can host the Olympics on our own," Catalan presidency minister Laura Vilagrà said on Thursday, adding that Catalonia was "perfectly capable" of doing so.
Vilagrà angered Aragon on Wednesday by calling on the COE to "consider a solo Catalan candidacy."
Aragon's presidency minister Mayte Pérez responded by calling it "completely unacceptable" and making it clear that her government would go to great lengths to denounce it.
Vilagrà then argued that "nobody should have the right to veto" proposals and said she would not understand why the COE would not back a Catalan proposal.
Stop JJOO celebrates "failed" bid
Not everyone is convinced the games should take place in the Pyrenees in the first place, from environmentalists to athletes, associations, or activist groups.
Most vocal among these is the Stop JJOO ("Stop Olympics") group, which, in stark contrast to Vilagrà's remarks about moving forward with the candidacy, told the press on Thursday that it was pleased with the "failed" bid.
In fact, Stop JJOO is convinced the proposal will be officially withdrawn at some point between Friday and Monday coinciding with COE president Alejandro Blanco's visit to Catalonia.
Vilagrà "needs to put an end to this agony and begin working on policies for the Pyrenees," spokesperson Bernat Lavaquiol said.
Catalonia-Aragon dispute
After much deliberation, on March 28 the COE announced a deal between Catalonia and the neighboring territory of Aragon to bid for the 2030 Games.
The Catalan government then confirmed its support for the agreement, but Aragon failed to do so. The day after the COE announcement, the president of Aragon, Socialist Javier Lambán, openly rejected it and said he would counter with a "fair and more balanced" proposal.
Catalonia, however, maintains that the issue is closed, and has even suggested there could be electoral interests behind Lambán's apparent U-turn, while the COE stated on April 1 that it would move forward with what it described as the "agreed upon" deal.
Catalan and Aragonese authorities have met again twice since then, most recently on June 7, but are yet to reach a deal.
Filling the Sink
Listen to the Filling the Sink podcast episode from February 5 to learn more about the contentious 2030 Winter Olympics candidacy.