La Rambla's reformation to start in 2022 at a cost of €44.5m
The project will increase sidewalks and take bird shops out of Barcelona's most famous avenue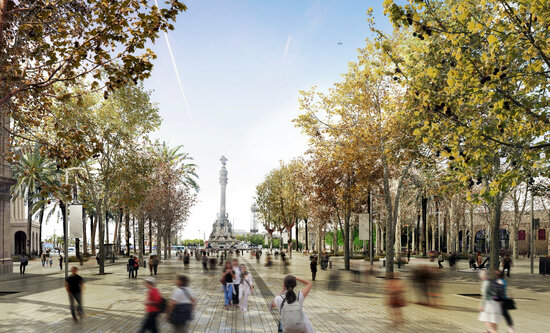 For years, Barcelona residents have thought of La Rambla boulevard as a place for tourists, with souvenir shops and inedible food. However, the city council wants to change this perception, and from 2022 will reform one of the most famous spots in Barcelona to welcome locals back.
The city center boulevard will become a more green space with more emphasis on culture, with enlarged sidewalks after reducing roads from two lanes to one.
The final approval on Tuesday confirmed that works will be carried out in separate sections, starting from the Columbus statue, next to the sea, and going up to Plaça de Catalunya square. The total cost of the project will be €44.5m.
Barcelona's deputy mayor in charge of urban planning, Janet Sanz, celebrated the definitive approval of the reformation plans.
"The reformation of La Rambla has to be a project aimed at recovering the boulevard, to make sure that locals feel like it's theirs. That is why the refurbishment has to stop neighbors from leaving La Rambla and to welcome new residents," Sanz said after the final green light to the project at Barcelona's urban committee.
The other goal of the project is to help local businesses instead of having stores closed, "as seen during the Covid-19 pandemic," Sanz highlighted. City authorities also announced that flower shops will remain on La Rambla as they make up the "essence" of the boulevard, and newsstands will be relocated to other places.
However, bird shops will be closed. These were small establishments placed on the main sidewalk of La Rambla selling birds and other animals such as rabbits and hamsters as well.
Three big spaces throughout the avenue
The project will dramatically transform three different areas across La Rambla in particular. The plans will see new squares created in front of emblematic sites such as La Boqueria market, the Liceu Opera Theatre, and in front of Palau Moja, a neoclassical building from the 18th century.
At these sites, the road will have the same height as sidewalks but security pylons will be installed. Throughout the boulevard, the use of the road will only be permitted for neighbors, public transport, bicycles, service vehicles, and cars going to any parking lot in the area.
La Rambla reform will be carried out at the same time as Barcelona's Via Laietana Avenue reform, less than a 10-minute walk from the most famous street in the city.