Guide to enjoying Sant Joan festivities – despite firecracker restrictions to prevent wildfires
All set for summer solstice annual celebrations on Thursday evening with bonfires, bangers and traditional 'coca' desserts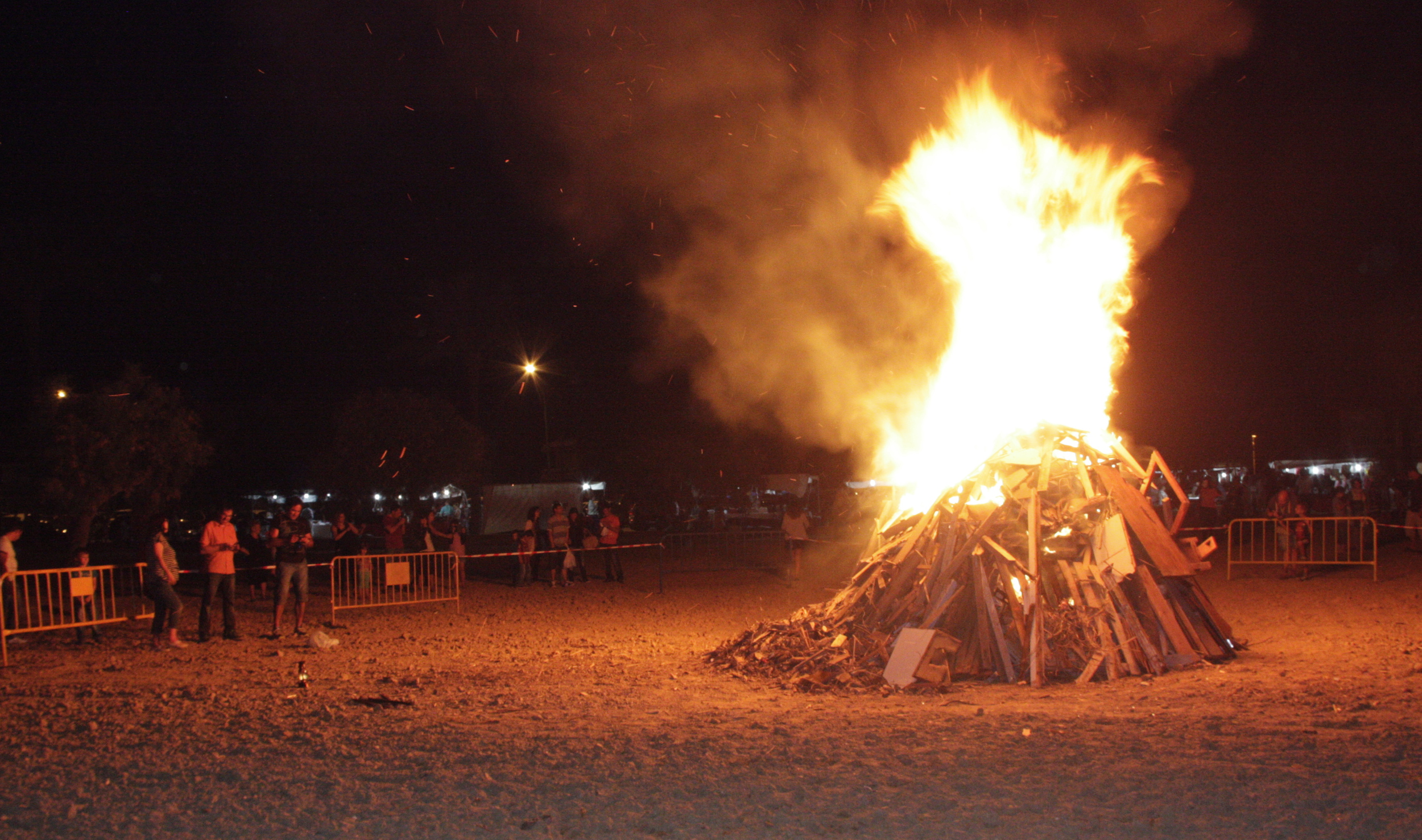 It's summer already! Yet, in Catalonia, the full summer feeling only arrives once the night of June 23 is gone – brushing aside recent temperatures of over 40ºC in the middle of spring…
Traditionally June 23, the eve of Saint John's Day, has been regarded as 'the shortest night of the year' – while it is not exactly correct, because the countdown for a long and dark winter begins on June 21, it is a perfect motto to celebrate the summer solstice.
Catalans feel a real need to make the most of the barely 9-hour night, with partying in the streets, beaches and squares up to a clear deadline: the sunrise, at around 6am.
The first post-Covid 'revetlla de Sant Joan,' or 'revetlla' (for 'eve'), as locals refer to the night, will try to be similar to pre-pandemic ones, with firecrackers being let off by children, their parents, families and groups of friends, together with bonfires in town squares, crossroads and beaches.
'Coques' – traditional desserts – are also a must, one of the most iconic parts of Sant Joan – a 'coca' consists of a special festive version of the classic brioche-inspired Catalan cake. Yes, in case anyone had doubts, obviously there has to be some food related to the celebration, as in all big days in Catalonia.
Check out what you cannot miss this year, and what you have to take into account in order to follow restrictions set to prevent wildfires:
Beaches will all be open unlike past two years
Much of the action to watch out for on Sant Joan happens on beaches along the coast. It's customary for groups of friends to gather for dinner or afterwards in order to enjoy the warm nighttime weather, with music, card games, 'coques' – and maybe some booze.
All beaches will be open, and for instance, up to 60,000 revelers are expected along the Barcelona shore. If they happen to still be sitting by bonfires on the sand, sleeping comfortably or anything like that, will be removed at 6am – this is when over 350 cleaners will turn up to make sure early beach-goers the next day find the place in a decent state. The sands in the city and all along the coast get no break from residents between June 23 and 24.
Beach bars close earlier than in pre-pandemic times
Beach bars in the capital – and their much sought-after toilets – will be open until 3.30am, one and a half hours earlier than the usual pre-pandemic times.
Live music and DJs have been banned, and drinking in establishments will only be allowed when seated. No dancing is allowed on the premises either.
These measures have been heavily criticized by the local restaurants association, which warns that people will still wander around the beach without being able to go to the toilet or buy drinks.
Other cities, such as nearby Badalona, have ordered beach bars to close even earlier, at 2am, and the sand will have to be cleared by 5.45am so that cleaners can do their job.
The local council is concerned about the preservation of the coast, as it is the Grup d'Estudi i Protecció dels Ecosistemes Catalans-Ecologistes de Catalunya (GEPEC-EdC), an environmentalist group that warns that crowds, firecrackers and waste are a risk for some endangered species that nest on the sand – for instance, loggerhead sea turtles and Kentish plovers.
Firecrackers restricted in certain areas to prevent wildfires
Over 300 wildfires during the recent heatwave were more than enough for the Catalan firefighters to tackle between June 15 and 20. Thus, authorities are calling on the public to be especially cautious with firecrackers – hopefully, the fire brigade and other emergency services will only have to attend small incidents in homes and first-degree burns due to mishandling of bangers, as is typical.
While the Catalan government said on Tuesday that no ban across the country is on the cards and the 'revetlla' will be celebrated with all its traditional elements, a press conference will be held on Wednesday announcing all measures agreed – it is expected that bans or recommendations could be introduced in specific places with an especially high risk.
Barcelona, for instance, is recommending not to use certain types of fireworks (rocket-shaped ones that shoot upwards when lit) and lanterns.
Local authorities also remind people that bonfires have to be granted permission by the local council, and regulations prohibit any activities to do with fire or firecrackers within 500 meters of vegetation, that is, in areas including Montjuïc and Collserola mountains.
The same rules apply in Lleida, western Catalonia, a city close to the areas most prone to wildfires.
Fireworks are not allowed to be lit from windows, balconies and on street furniture in the capital of the west.
Some towns in the Girona area are also regulating the tradition: Sant Julià de Ramis (Gironès county), Garriguella (Alt Empordà) and l'Estartit (Baix Empordà) have set specific places where bangers are allowed – others, such as La Cellera de Ter (Selva), have also added a time frame.
Towns close to Barcelona but also to nature areas, such as Vallromanes (Vallès Oriental), Valldoreix (Vallès Occidental), Bigues i Riells del Fai (Vallès Occidental), Vallirana, Castellví de Rosanes (Baix Llobregat) and Sant Esteve de la Sarga (Pallars Jussà) have also taken measures such as banning the sale of firecrackers or their use, as well as lighting bonfires.
In one municipality affected recently by wildfire, Olivella (Garraf), pyrotechnics will only be allowed at one location, Plaça Catalunya square, and only until 1am.
Largest security campaign ever
The Catalan interior ministry announced on Wednesday the largest security campaign ever for people to enjoy Sant Joan's Eve. There will be 28% more Catalan Mossos d'Esquadra police officers surveilling the roads and amusement areas, as the Catalan interior minister, Joan Ignasi Elena, announced on Wednesday.
Added to the 2,393 law enforcement agents, authorities will double the 112 emergency phone staff during the night.
Fire restrictions, despite being forbidden in some places, will not be generalized and will stay the same as the ones in place during 2021's Sant Joan's Eve. No firecrackers are allowed within 500 meters of vegetation and this year, for the first time, floating sky lanterns will not be allowed.
"We will do the largest security campaign in history for several reasons: because we are leaving the pandemic behind and people want to celebrate, also because we just had complicated days because of several wildfires and we do not want to repeat, and last because Sant Joan celebrations will happen during a long-weekend and more people will travel," Joan Ignasi Elena said.
Covid situation in China and wildfires may hamper firecracker businesses
In early June, companies selling firecrackers were aiming to turn over €19m, which would mean €1m more than last year and €2m more than in 2019.
These estimations were made despite the closure of the Port of Shanghai, in China, for two weeks in spring, due to Covid.
According to Josep Maria Vilardell, president of the association of manufacturers and wholesalers of firecrackers in Catalonia, part of the material is not expected to arrive "until the last week or even after Sant Joan," when it does not make sense anymore – except for tiny similar celebrations for Saint Peter, on June 29.
Yet, the recent episode of wildfires and the restriction of the tradition in several towns may further hamper business – Unió de Pagesos, the main agricultural trade union in the country, is also asking the public to be "extremely cautious."
Also, in recent times, calls are constantly increasing to take into account people with special needs and the negative effects that loud noises can have on them – and on pets too.
Bonfires, music and communal dinners allowed
Bonfires are allowed across most of Catalonia, although restrictions need to be taken into account, and local councils may ask for prior permission before they are built.
In Barcelona, five major bonfires have been allowed so far: three in the Eixample district, one in Sant Andreu and one in Sant Martí. Others smaller in size will also be seen across the city.
The full programme of events per district can be found here, usually including not only bonfires, but also music and communal dinners.
Coques – the sweetest part of the celebration
If not stuffed enough with all the celebrations going on in Catalonia, one can also try an element that will for sure be on the table in most households: coques de Sant Joan.
The patisseries guild foresees a sale of 1.8 million artisan coques, which would mean figures very similar to that of 2019 – that is, a whole coca per every 4.2 inhabitants. It comes as no surprise that prior reservation is the smartest thing to do if you want to enjoy the classic made with brioche, jams, pine nuts, and cream, a pork rind version, also very traditional, or a quince jam.
Despite inflation, prices will still be approximately the same as in the past few years, that is, ranging between €16 and €35 for an artisanal coca – those that can be found in supermarkets are usually cheaper… but also less tasty!