Girona's Can Roca restaurant becomes a canvas for street art
Eatery of the celebrated Roca brothers just one of the venues in the northern city's annual Milestone Project festival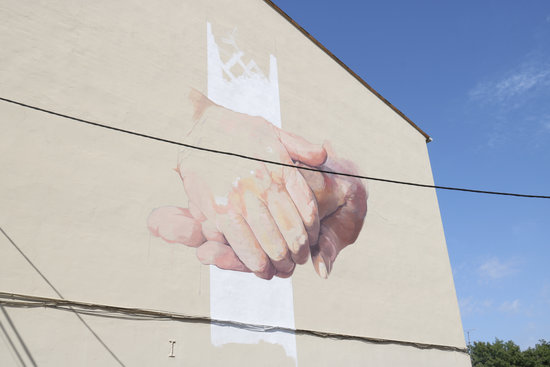 Art and cuisine have come together in Girona, where the Milestone Project, the northern city's annual festival devoted to street art, has painted one of the walls of the celebrated Can Roca restaurant as a "tribute to old age."
The mural on the front of the restaurant shows two hands clasping each other, an image which chef Joan Roca explains came from a promotional video featuring his parents' hands, the couple that originally opened the restaurant that has since become world-famous.
Yet Roca, the oldest of the three brothers who in recent years have won over the culinary world, also says the painting is "a tribute to the neighborhood" and to the "integration" of the different cultures in the Taialà district, where the restaurant is located.
Yet Can Roca is not the only venue o feature in the 8th edition of the Milestone Project, as there is also a mural over five facades on Girona University's Montilivi campus, and another on a building in the Germans Sàbat district. In all, the festival featured 36 murals.
The street artists featuring in this year's edition of the festival were American-born Haitian-Spanish artist Axel Void, Italian artist Francesco Camillo Giorgino, known as Millo, and Mataró's Moroccan-born artist Mohamed L'Ghacham.