Cirque du Soleil's 'Messi 10' acrobats perform at Gaudí's Casa Batlló
Canadian circus company's show will be on in Barcelona until January 2020 before world tour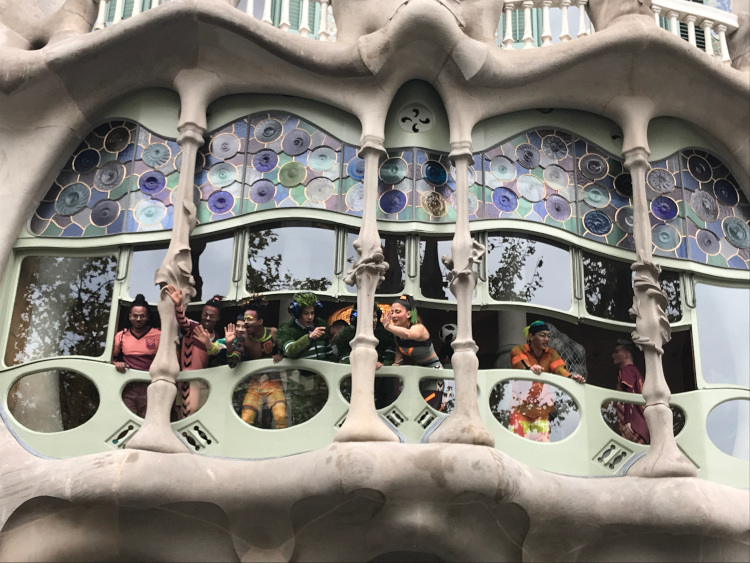 On Thursday, tourists visiting one of Barcelona's modernist gems, Gaudí's Casa Batlló on Passeig de Gràcia, were in for a treat: Cirque du Soleil delighted visitors with a Leo Messi-themed pop-up show in honor of 'Messi 10', currently on at the Fòrum.
The Canadian circus company's football show will be on in Barcelona until January 2020 before the artists head on a world tour, though those interested in catching the act before it's too late should note that the Catalan capital will be the only European city Cirque de Soleil will perform it in.
Cirque du Soleil performers stand out just as much for their incredible talent as for their elaborate and eccentric get-ups, with colorful costumes, makeup and body paint submerging viewers into the artists' creative world.
Yang Huang, one of the troupe's acrobats, says that getting ready for a show takes her "two hours to do."
"The wig I usually ask for help for, but for the makeup, I always do it by myself," Huang explained to the Catalan News Agency.
'Messi 10' is complete with vibrant football players, a large-bellied referee, and artificial turf covered commentators donning big headsets, among many other imaginative characters.
At Casa Batlló, the artists showed off their impressive acrobatic skills with hand balancing on canes, endless kick-ups, and mind-boggling contortions.
But of course, Casa Batlló visitors were only granted a snippet of it all – to see artistic director Sean McKeown's magic in its entirety they'll have to head to the Fòrum before January 4.
"We're in the purpose-built venue there at the Fòrum. It's going very very well. After that, we're going on a bit of a world tour, but we're not coming back to Europe at this stage, so if people in Europe want to see us they have to come see us now because the clock is ticking," McKeown exclaimed excitedly.