Chris Martin halts Coldplay concert to praise Castells human tower in Barcelona
"It is incredible, that is the best thing I have ever seen in a concert," singer said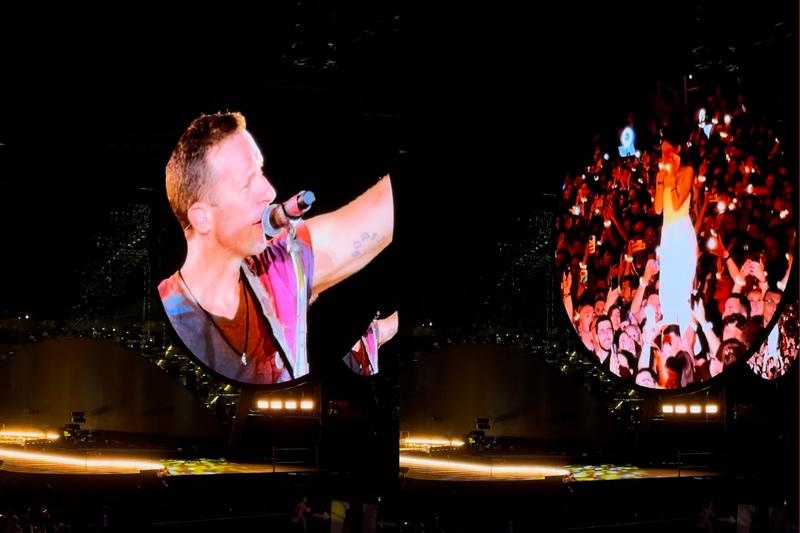 When Coldplay fans were going to start singing 'look at the stars, look how they shine for you…' during the first of four concerts in Barcelona, singer Chris Martin decided to stop the show and interrupt 'Yellow.'
He had seen something "incredible," as he said, referring to a girl doing a 'Pilar de dos' castells human tower.
"That is the best thing I have ever seen in a concert," Martin added after asking the band to stop playing and asking the over 55,000 spectators at Wednesday's gig to "wait, wait, wait."
"How are you standing on everybody else? I do not understand. Look at this amazing girl," he said straight after.
Martin was praising Ainhoa Jurado and her father as she "just wanted to say hi to Chris Martin, but I did not expect at all for him to see me, nor stop the concert and the song," the castellera told Catalan TV3 program Planta Baixa.
"I started doing castells when I moved to a town near Vilafranca del Penedès, [one of the biggest municipalities in the Castellers industry], and since then, I like them," Jurado added.
"We are Catalans, and it is very common to do 'pilars' and my family and I decided to choose a slow song not to put anyone in danger," however "we did not expect what happened," Ainhoa said during an interview with Catalunya Ràdio radio station.
After being surprised, Coldplay's singer apologized to everybody for halting the show because of "the acrobats," something he considered "really amazing."
Catalonia's amazing human towers
Not for the faint-hearted, castells are human towers that can reach up to 10 stories high – that's 10 groups of people stacked on top of each other! Cristina Tomàs White and Guifré Jordan join Lorcan Doherty to delve into 'el mon casteller', the world of human towers.
We visit one of the gravity-defying groups in Barcelona, the Castellers de Sants, and chat to Ignasi Escamilla from the Catalan Human Tower Groups Association (Coordinadora de Colles Castelleres de Catalunya) about the philosophy behind this unique tradition, recognised by UNESCO as Intangible Cultural Heritage of Humanity.
Four detained for selling special Coldplay passes
Catalan Mossos d'Esquadra police detained four people on Thursday for selling special passes, bracelets, and authorizations to access Coldplay's concerts.
They are accused of scams and forgery of documents as they would say they were part of the organization and would look for victims in the area surrounding the Estadi Olímpic Lluís Companys.
So far, police reported one victim of such a scam.