A day among flowers and picturesque Girona landscapes
Temps de Flors flower festival is only possible thanks to the efforts of passionate residents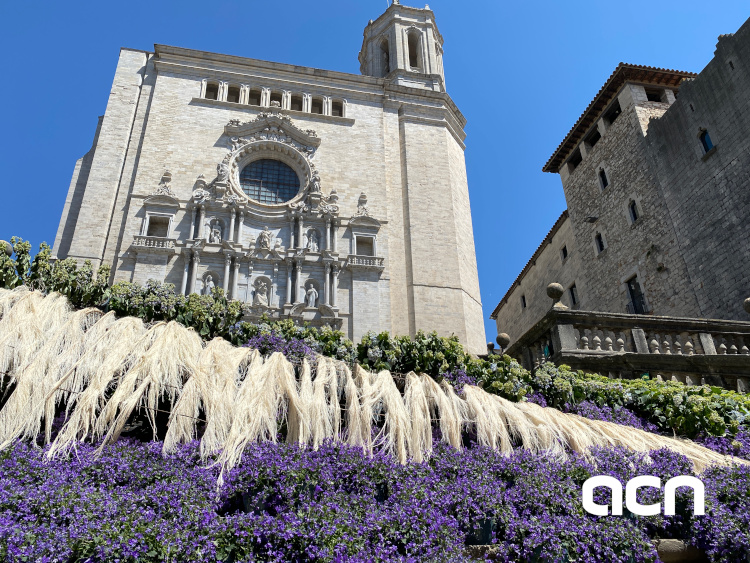 I arrived in the northern city of Girona on a warm spring morning to explore the Temps de Flors flower festival. As soon as I got off the train, I heard someone complain about how crowded the compartments were and having had to stand the entire hour and 20 minute-journey from Barcelona. I may have been lucky as my compartment was quite empty and silent, but not lucky enough to get the high-speed train as tickets (I would have saved 40 minutes!) had sold out.
Girona's annual flower festival dates back several decades. But this edition is a special one as the city is "back to normal" after the Covid-19 pandemic, Glòria Plana, the city councilor for economic development told me.
Have a listen to the podcast that came out of my visit to the show.
The streets were busy, but you could still walk around at ease. Flower Time, as the name translates directly, is one of Catalonia's most unique festivals, and as soon as you get there you realize just how important it is.
Visitors carry only two items: a map with the different routes or their phones with the camera app on them.
Temps de Flors started in 1954 "in a room in the city hall. It then went to a bigger space… and finally, someone had the idea to do the flower arrangements in emblematic places across the city," Plana explained to me as some people gently nudged her to take a picture of the flower arrangement behind her.
Some of the emblematic places the councilor mentioned are the stairs to the Cathedral or its cloister, the Arab Baths, and private house patios in the old quarter, the Barri Vell.
This year, over 119 flower arrangements feature in 107 locations across the city. Because of Covid-19 last year, all displays were outdoors, but this year indoor exhibitions were back once again for visitors to enjoy.
Lost, found, and lost again among flowers
One thing that struck me was the number of people checking their maps with the flower display numbers written in white inside green circles. I soon realized why.
It felt like I was lost and just wandering around the streets in Girona's Barri Vell as organizers planned four different routes across the city. You could see some flower displays, but not as many as I had imagined.
"Last year, we did four different routes for the first time. 2021 was a turning point for Temps de Flors, because of the pandemic we had to adapt the flower festival," Glòria Plana told me before I started walking non-stop around medieval uphill streets.
It was probably not the best decision to walk around with all the recording equipment under the heavy sun and 24-degree heat, especially as I then realized I was walking in the wrong direction, getting farther away from the different flower sites.
I finally stumbled across two English tourists who were also a bit lost. They were enjoying a view of Girona from a small park with a 5-meter metallic tunnel structure covered in purple and yellow flowers. Some people did walk under the structure, but I did not.
Marjorie and Leslie,as they were called, who said Girona was a "beautiful town."
"We loved the children's exhibition, but the map is a little bit difficult to follow," Marjorie said.
After hearing the two English visitors laugh about the lack of water making the flowers wilt, I went on my way. This time, as luck would have it, I had to go down a breezy street.
Hundreds of flowers adorn old quarter
I decided to leave the Cathedral's flower arrangement for later, as I knew it was one of the most impressive ones. So I started wandering around, once again, until I ended up in front of Casa Cúndaro, in the center of Girona, next to the Cathedral.
It is a medieval house where members of the Jewish community used to live. Girona was one of Catalonia's most important medieval cities, with a thriving Jewish quarter, the Call Jueu.
Casa Cúndaro is a small, two-storey building. As it is on the top of a hill, you need to enter through a door 15 steps below the exit, on another path. It had some flower arrangements indoors, with basketballs doubling as flower pots, and a patio with a Star of David made of white roses.
Because of the over 1,000 volunteers there answering people's questions, I did not get lost this time. They represent 1% of the overall population in Girona, something that struck me as Temps de Flors runs for nine days straight.
Still tired of walking around, I asked one of the volunteers to show me a shortcut to the front of the Cathedral.
"Unfortunately, you will need to walk all the way up there, walk behind the Cathedral, then descend once again and take another street and then…" I could not believe it. I thought I knew how to move around the city, as it was not the first time I had visited it, but turns out I lacked experience. Or at least, during Temps de Flors.
Only one-way streets and hills
Organizers closed some of the streets to make them one-direction only to control the flow of visitors.
In 2021 alone, over 220,000 people came to see Temps de Flors, despite it being a year when travel restrictions were still in place in many countries; Girona has 101,932 inhabitants.
I had no choice but to listen to this helpful volunteer. She was standing in front of a green door next to a 20-meter long carpet of flowers going down the stairs of Pujada de la Catedral walk.
I started walking up the hill, once again, and got to the other side of the Cathedral. From there I walk to beautiful gardens where I could hear birds singing.
Climate change warnings
I decided to enter the Cathedral's cloister after realizing I had gone to the wrong door and had to go up the hill, again.
There were a few people around but it was still quite calm and nice. The cloister was built in the 12th century and has four different galleries with Romanesque-style arches.
I was visiting flower arrangement number 56.
White, pink, light purple, oranges, and some wood-made big butterflies mixed with the green of hundreds of eucalyptus leaves adorned the galleries.
Outdoors, however, in the middle of the cloister, a tree stood alone surrounded by burned wood and smoke.
Dark, gray, black, lack-of-life… The designer wanted to warn visitors that climate change is a reality.
After this visit, I kept walking and recording people taking pictures and enjoying the flowers. I definitely went to the good area of the festival, as I could see hundreds of different kinds of flowers.
30-minute queues
A 50-meter queue, or even longer, caught my attention. People were waiting in line to enter the Arab Baths. Above them was a huge world map made from purple flowers, for the sea, and green ones representing the earth, with 'Girona' written in yellow on top of Russia, China, and India.
The Arab Baths are one of the most interesting attractions this year, as last edition's indoor displays were closed. However, this year, I could hear someone telling her friend it was well worth the wait.
Several flower arrangements had been placed indoors, with one using the walls to hold several big displays resembling piano keys. Another display was a huge rainbow.
The Cathedral, the iconic place
It was not until I got in front of the Cathedral's stairs that I realized the magnificence of Temps de Flors. The building, a 34-meter high church, is set atop 90 steps.
Some people may remember them from a Game of Thrones episode - a huge event for Girona residents. Now these stairs are filled with flowers.
"2,500 plants," Montse Galí, from the Association of Friends of Flowers and Gardens, told me from the top of the steps. No, you cannot walk up them now. You have to, once again, make your way up on nearby streets because of the flower arrangements on them.
Montse isn't sure how many flowers were used for this year's Temps de Flors.
"We cannot count the number of flowers used, only once we do the final assessment is when we can learn how many have been used. Final orders will start arriving with a specific number, as forecasts are one thing, and reality is another one," she told me. Turns out that I will not get a specific number after being surrounded by flowers all day.
On the lower part of the steps, Annie and Rebecca enjoyed some fresh air. It is lunchtime, and they planned their trip with this in mind.
"We know the tricks," Annie from Australia said jokingly. She is a Catalan News reader, so, hopefully, she'll appreciate seeing herself quoted here.
"I cannot choose one flower display in particular, as it's the whole experience. Spend time, don't rush," she added.
Her friend Rebecca praised the work the artists months ahead of Temps de Flors.
"Girona is beautiful any time of the year, but I think this is very special. I think it's how the floral artists use the city to display the work in the buildings. They use what's here already and work with it," she explained.
Rebecca raised one of the questions I had in mind all day. Who chooses the designs and when?
Turns out there is a committee formed by the city council and the association Montse is a part of. In March they are already selecting flower displays.
"Some of the designs are made with a particular place in the city in mind. As for the rest, we just simply look for the best spot," Gali said. For the Cathedral's stairs, for example, there is a waiting list.
And no, not only local designers can take part, but also people from New Jersey, Barcelona, or other parts of the world.
After learning this, I left to return home. Just in time, as schools were out and even more people began to flood the streets.