J. A. Bayona: directing natural disasters, dinosaurs, and monsters
Catalan filmmaker behind Hollywood blockbusters learned skills at Catalonia's cinema school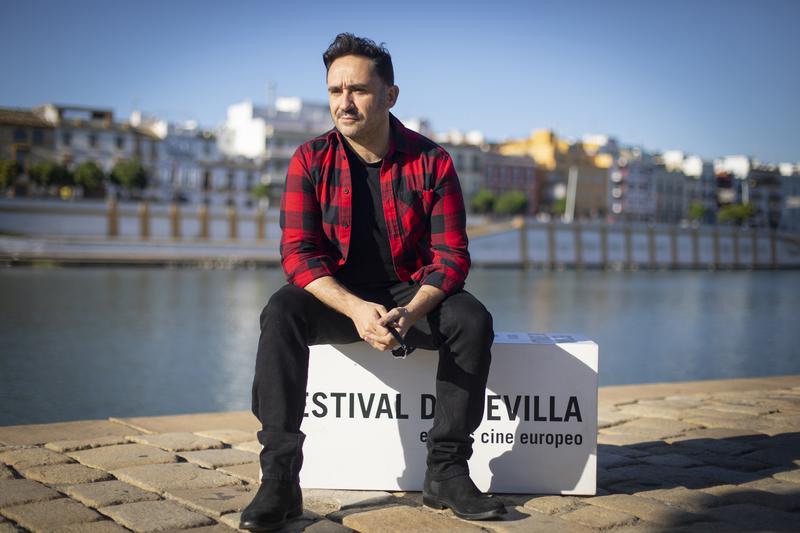 Juan Antonio Bayona, more commonly known as J. A. Bayona, is one of the most successful Catalan filmmakers abroad after becoming a household name in Hollywood. Bayona, who started his career in 2007 with 'The Orphanage,' just finished shooting a movie in the Andes for Netflix.
His filmography includes haunted orphanages, natural disasters, dinosaurs, and even monsters. His debut horror film was widely acclaimed by critics and cinema-goers, making over €70 million in the box office, with a mere €4 million budget.
"I remember, with lots of love, the premiere of 'The Orphanage' at the Sitges fantasy and horror film festival," J. A. Bayona said to Catalan News on the red carpet of the 2023 Gaudí Awards.
"It was a very special night as I grew up going to the Sitges film festival every year, and being in Sitges with the movie was even more special than going to the Cannes Film Festival," he added.
The movie tells the story of a woman who returns to an old orphanage where she was raised to set up a home for children with disabilities, but things don't go to plan.
Born in Barcelona in 1975, the Catalan filmmaker went to many editions of the horror festival in the seaside city south of the capital.
Years after premiering his first movie, Bayona directed Ewan McGregor, Naomi Watts, and a very young Tom Holland in 2012. 'The Impossible' transported the Catalan filmmaker to a new world after switching from Spanish to English and taking his production overseas.
The movie is an emotional tale of a family spending the Christmas holidays in Thailand and getting caught up in a tsunami - the 2004 Indian Ocean tsunami; it's based on a true story.
Awarded in several categories, including best sound and director at the Gaudí and the Goya Awards, film members vied for the biggest accolades worldwide, such as the Oscars and the Golden Globes.
Watts's performance in 'The Impossible' was nominated for Best Actress in Leading Role in both competitions.
But J. A. Bayona's career did not become a success without any previous efforts. He studied at the Cinema and Audiovisual School of Catalonia, ESCAC. Those who taught him still remember his first days there as a student.
"If I recall correctly, he got an excellent 10/10 grade in my class. He never missed classes, he was a very hardworking guy, and he's gone on to have a brilliant career since. He was a great student," Jaume Macià Vives, current ESCAC director of studies and professor of dramaturgy, said to this media outlet.
Bayona even corrected another professor on the first day of class while they were learning the 180-degree rule, which means no cameras can cross over the 180-degree angle of the imaginary line drawn between the characters when recording a conversation.
At the time, Joan Marimón Padrosa thought, "I have to be aware of that guy because he is really smart, smarter than me," the professor of theories of editing told Catalan News during an interview.
From Barcelona to Hollywood
Before his huge premiere in Hollywood with 'Jurassic World: Fallen Kingdom' in 2018, Bayona directed one last movie in what he considers his home.
'A Monster Calls' was a motion capture film starring Liam Neeson as a monster. At seven minutes past midnight, he visits a little boy and tells him three tales, and in return, the boy has to tell him one.
While the movie did not do as well as his other films in the box office, it was the step this Catalan filmmaker needed to reach Hollywood.
"My first three movies, ['The Orphanage,' 'The Impossible,' and 'A Monster Calls'], were made in Catalonia, at home. I believe these films helped me prepare for the big change of going to Hollywood to direct movies, as it was an unknown world to me," J. A. Bayona said.
Working in the most famous movie industry was part of the desire of one of the biggest directors in cinema. J. A. Bayona is a huge "admirer" of filmmaker Steven Spielberg, as Joan Marimón Padrosa, his ESCAC first-and-second year teacher, told Catalan News.
He even goes as far as calling him "the Spanish Steven Spielberg."
"He is changing genres going from adventure to fantasy to drama… More or less like Steven Spielberg does, but he is very interested in getting the interest of the audience from the first minute, and he knows how to do it," this professor, still working at ESCAC, said.
Funny enough, Spielberg himself wanted Bayona to direct the first Jurassic World movie, but he was working on 'A Monster Calls,' and turned down the proposal. Years later, he directed 'Jurassic World: Fallen Kingdom,' as no one can say no to Spielberg twice, he said during an interview.
"J. A. Bayona has always been in the orbit of cinema for the audience: comedy, fantasy, science fiction, he's liked doing that from the start," Jaume Macià Vives said.
"He hasn't changed much. He's a very versatile guy that can do everything, 'The Impossible' is a tremendous drama," he added.
Fantasy and true stories
While working with dinosaurs and actors Chris Pratt, Bryce Dallas Howard, and Jeff Goldblum led Bayona to direct the 12th-highest-grossing film in history, with a box office of $1,309,484,461, he did not repeat for the third Jurassic World franchise movie.
Instead, Bayona focused on directing the first two episodes of 'The Lord of the Rings: The Rings of Power,' which premiered in 2022 on Prime Video.
After working on the fantasy series in New Zealand, the Catalan filmmaker moved his office to the Andes, where he finished shooting his upcoming movie 'Society of the Snow.'
"We finished shooting a little before Christmas, and we are editing, mixing the audio, editing the special effects… It is a very complicated movie technically, but we are also very happy with the final result," J. A. Bayona told this media outlet before handing out the Gaudí Award for Best Catalan Picture.
Years after first attending the ESCAC film school in 1994, Bayona went on to become an acclaimed director. Almost 30 years after his first steps at Catalonia's cinema school, he is now directing blockbusters and who knows if he will one day win an Oscar for Best Director.