What makes Catalan Christmas markets different from other European ones
Santa Llúcia Christmas market prides itself on the amount and variety of traditional Christmas decorations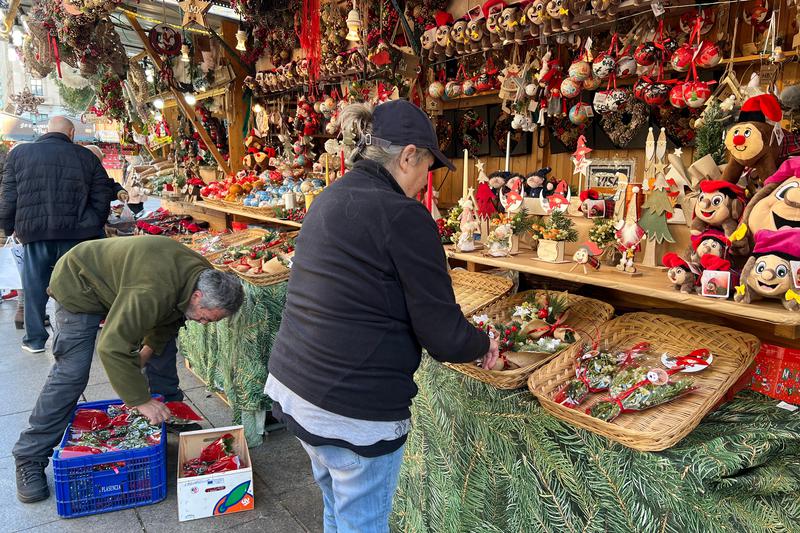 Christmas markets are popular all around Europe, but the ones in Catalonia tend to look a little different from typical markets in other countries.
Instead of depicting snowy tales in between stands with Glühwein and food, an ice skating rink, or an indoor shed with Christmas and Tiroler songs, Catalans like to highlight the 'market' aspect of Christmas markets by exclusively presenting stands with Christmas related products. The early December sun also brightens the shopping experience.
Santa Llúcia Christmas market in front of Barcelona Cathedral is a perfect example, as it consists of more than 160 stalls that are specially dedicated to Christmas decorations, ornaments, nativity scenes, Christmas trees and more, making it the largest one of its kind in the world, according to organizers.
Taking place on an annual basis since 1786, the market is also the oldest in Spain and many unique Catalan Christmas traditions can be found in the stalls.
"They sell a lot of typical things from Spain and Catalonia such as the caganer, the tió and so on. I like them a lot because they are special here," one local shopper taking his baby on her first Christmas shopping trip told Catalan News.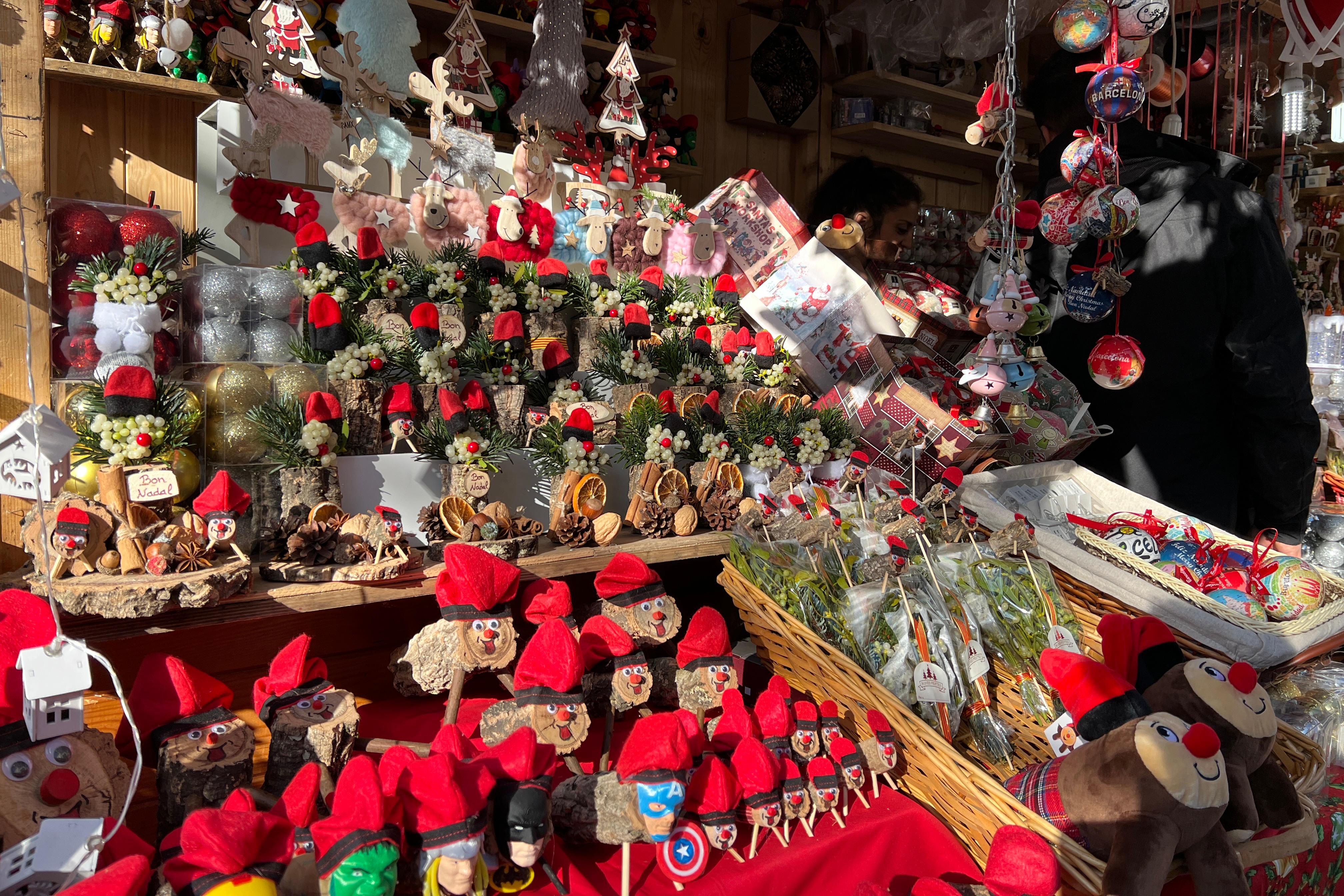 Culture shock
As other European cities often include extra activities in their Christmas markets, some tourists were surprised to stumble upon the one in Barcelona. "The markets at home are covered in snow and we go there to drink glühwein inside to keep ourselves warm," said a couple from Latvia.
Another tourist from Belgium was shocked to see that the market did not include drinking stands. "It is the main reason I go to Christmas markets in Belgium, to have a drink with my friends while enjoying the holiday season," he said, adding that "a lot of the markets in Belgium do not even sell decorations but are just meant as gathering places."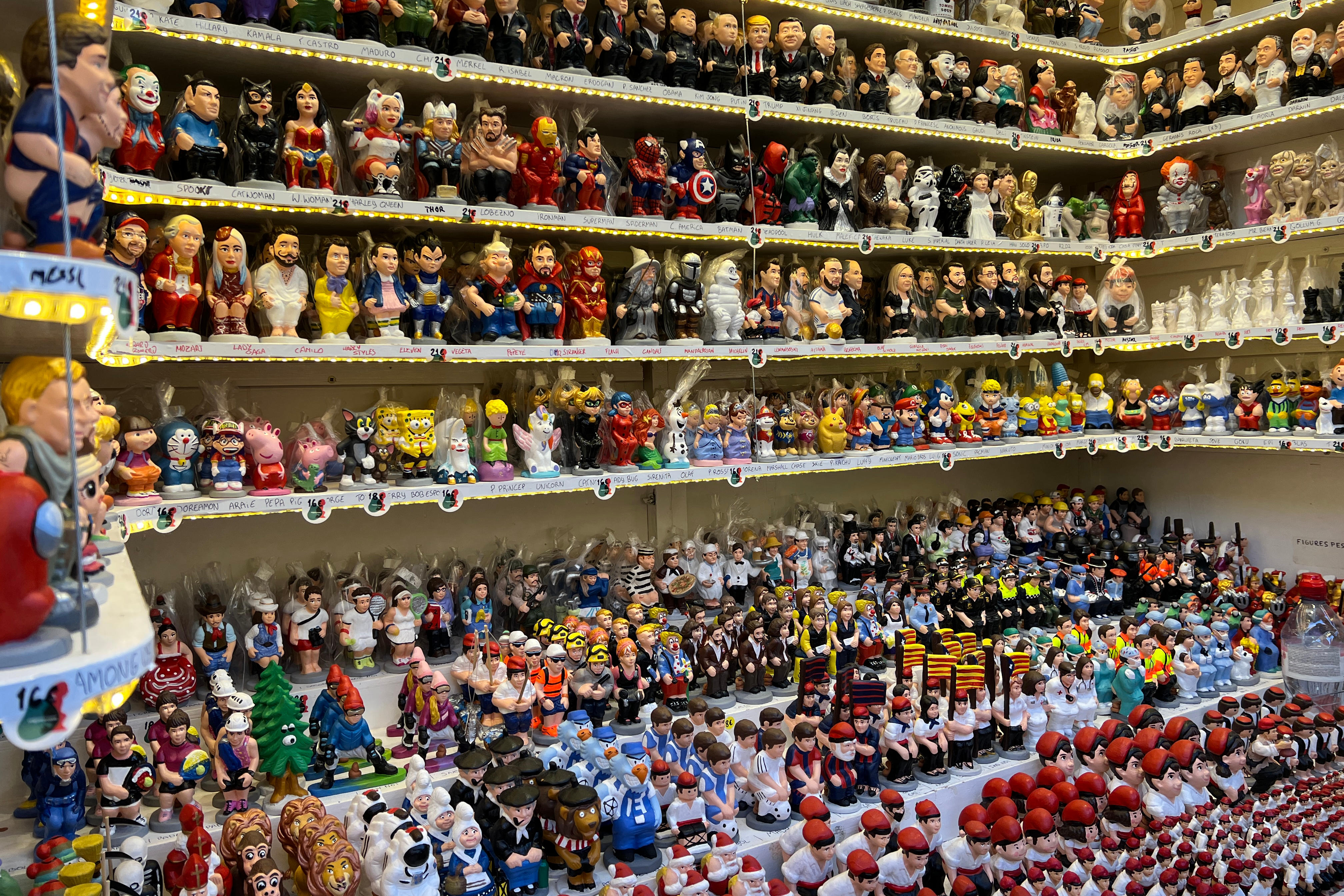 Several vendors at the Santa Llúcia market are happy with the way the markets are presented, as they put the main focus on the Catalan Christmas traditions for the limited period they last every year.
"You can find food and drinks all over the city so I don't feel like it is necessary to sell it here," said market vendor Clara Aoyats, pointing out that the market in Barcelona's centrally located Gothic neighborhood is surrounded by bars and restaurants.
"Everyone already eats and plays," she continued, explaining that "if we include food and other activities in this market, maybe people will only come here for those things instead of the Christmas decorations and traditions," which she would not like to see happening.
Opportunities
Some tourists, while understanding that Catalans like to focus on decorations, feel like there is more to add to a Christmas market experience.
One American woman who has visited multiple Christmas markets across Europe felt like Catalan markets are not missing out, but that they could "open themselves up to more opportunities."
"I think it would make people want to hang around these markets longer," she predicted, adding that "it could provide extra business if people had the combination of eating and shopping."
Market vendor Xavi Fonclara agreed with the statement, saying that "strictly focusing on Christmas products differentiates Catalonia from other places, but changing the market around a bit might attract more people."
This year, the Santa Llúcia Christmas market has a total of 192 stands, of which most are dedicated to decorations while some sell Christmas related presents such as ceramics, accessories and jewelry.
"Because the market only sells Christmas products but does not offer other activities, most people only come once," Fonclara added. "I feel like the traditions need to be kept, but some improvements could be beneficial as well," he concluded.
Santa Llúcia market stays open until December 23, the point when most Catalan homes are beautifully decorated for Christmas already.