Montserrat monastery proposes film to Spielberg about 'Montserrat's Indiana Jones'
Prior explains, during Obama and filmmaker's visit to mountain, history of monk Bonaventura Ubach, who traveled to Middle East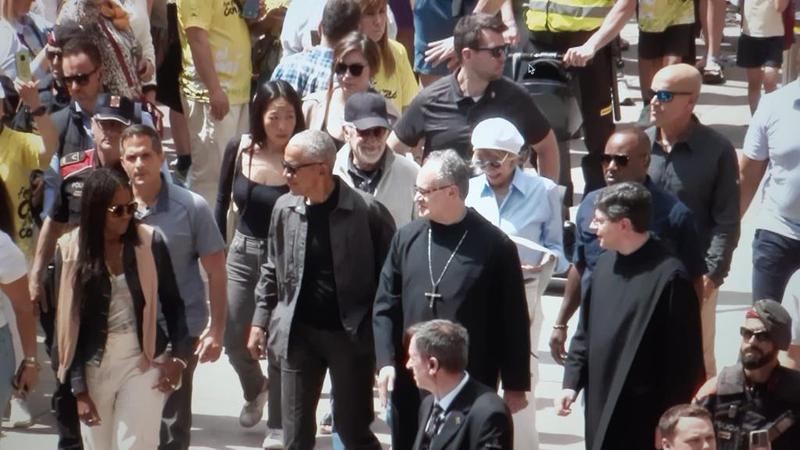 Catalonia's multi-peaked mountain range Montserrat is well-known for its monastery, visited on Saturday by former US president Barack Obama, accompanied by first lady Michelle Obama, and Steven Spielberg and his wife Kate Capshaw.
During the visit, prior Bernat Juliol welcomed them and even proposed a film to the filmmaker about monk Bonaventura Ubach (1879-1960), as Òscar Bardají, communications director of the monastery, said during an interview with RAC1 radio station.
Ubach was a prominent biblical studies figure in the Middle East as he traveled many times to the area.
Juliol "hinged" to Spielberg the possibility of filming in Montserrat hill as it has many stories, including the one regarding Ubach's adventures, as he is "Montserrat's Indiana Jones," Bardají said before explaining that he was in charge of bringing a "Caravaggio painting, a mummy, and the sarcophaguses" of the monastery's museum.
Spielberg "did not say whether yes or no," to the idea, but he thanked the proposal.
During the visit, Barack Obama, Michelle Obama, Steven Spielberg, and actress Kate Capshaw visited the monastery and the iconic carved sculpture of a black Madonna known as 'La Moreneta.'
Overall, it was a "very intense" visit, but it went "great for everybody," including the monastery and Catalonia as a whole.
The Obamas and the Spielbergs have been touring around Barcelona since Thursday, as they have spent a couple of nights in the Catalan capital to see Bruce Springsteen's first of two concerts in the city. Even Michelle Obama and Capshaw went on stage to sing 'Glory Days' during the gig.
Filling the Sink podcast
Montserrat is a natural wonder, a rocky mountain range that rises from the plains of central Catalonia. It's a holy place, home to La Moreneta, the Virgin of Montserrat, and a Benedictine Abbey with a history stretching back one thousand years. It is also home to one of the oldest boys' choirs in the world, and soon it will also have a mixed group.
Listen to our Filling the Sink podcast episode published in May 2021 to learn more about the Escolania and the multi-peaked mountain range.