Montserrat choir to welcome female voices for first time in its 1,000-year history
New world-class group will have around 20 boys and girls aged 17 to 24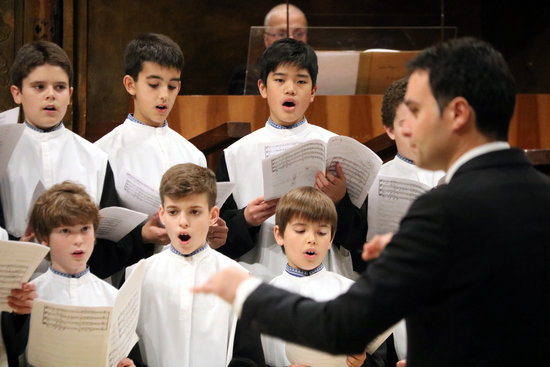 Monserrat's Escolania choir will create a mixed group for the first time in its almost 1,000 years of history to include female voices. This is a "very important" step for the choir, and it will be formed of 20 to 25 boys and girls aged 17 to 24.
"We continue a very old tradition that is part of history, and we do not want to lose what we have as a lot of people appreciate it, but we also felt sorry for not being able to include the many requests from girls," Efrem de Montellà, a monk and the Escolania director, said to the Catalan News Agency (ACN).
The new choir will not be professional as it will perform once a month, giving the members of the Escolania boys' choir a break.
Candidates will be selected in different auditions on May 27 and June 3, and the choir is expected to start in September.
"It is something new. In our almost 1,000 years of history, Montserrat has never had a choir mixing female and male voices," Efrem de Montellà said.
Despite the creation of the mixed choir, the Escolania boys' choir will continue to be male-dominated and no female voices will be allowed.
The Escolania is considered the oldest music school in Europe, as it has been teaching students since the 13th century. The BBC even recognized it as one of the world's top ten choirs. It is only formed by boys aged 9 to 14.
Intensive learning activity
The new choir will have an intensive learning activity, as kids will be vocal, liturgic, and spiritually trained to have the maximum knowledge and context of the community.
The choir will take part in the mass services in the Montserrat monastery and will sing Salve Regina (Hail Holy Queen), and the Virolai, a song in Catalan dedicated to the black Madonna.
The chosen singers will be required to stay in the choir for a year, but will not have to pay for any of their schooling or the food served over the monthly weekend spent in the monastery during their lessons, as the monastery will pay for it.
"Members must have a very good and high singing level," Efrem de Montellà said. The reason is that they will only be trained once a month. Officials are looking for music, singing, and conducting students, and those interested can request more information via email the escolania@escolania.cat.
Filling the Sink podcast
Montserrat is a natural wonder, a rocky mountain range that rises from the plains of central Catalonia. It's a holy place, home to La Moreneta, the Virgin of Montserrat, and a Benedictine Abbey with a history stretching back one thousand years.
Listen to our Filling the Sink podcast episode published in May 2021 to learn more about the Escolania and the multi-peaked mountain range.