Dani Alves transferred to safer prison with smaller wards
FCB coach Xavi apologizes to alleged sexual assault victim for "feeling sorry" for jailed footballer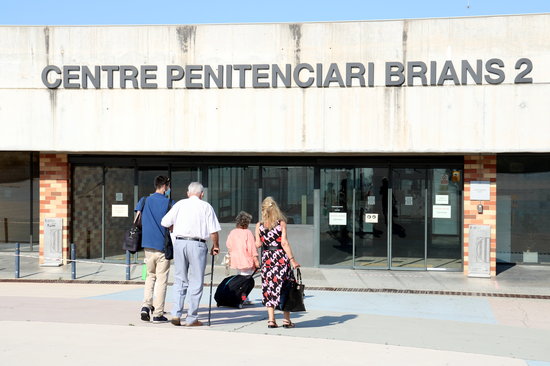 Dani Alves has been transferred from Brians 1 prison to Brians 2, also located in the town of Sant Esteve Sesrovires, 40km northwest of Barcelona.
The footballer, who was sent to jail without bail last Friday for an alleged sexual assault in Barcelona's Sutton nightclub on December 30, is now in a penitentiary with smaller wards.
Wards in Brians 2 house 80 inmates on average, while those in Brians 1 have around 200 people each.
The Catalan justice department's prisons authority made the decision on Monday in order to better guarantee inmate safety, making clear this is nothing special, but rather standard practice.
Alves will have to remain in provisional detention until either he is potentially sent to trial or a judge decides he is no longer a flight risk while the investigation proceeds.
On Friday, the public prosecutor's office requested preventive detention without bail for the athlete, which the judge acceded to.
Upon arrival at the penitentiary, Alves went through the usual protocol: prison workers verify the new inmate's identity, frisk them and search their belongings, health professionals visit them and they are assigned a cell within five days.
FC Barcelona manager retracts comments: 'I do apologize to the victim'
Meanwhile, on Sunday evening FC Barcelona manager Xavi Hernández apologized for his comments regarding the incident involving his former Barça teammate.
On Saturday he had said he felt "sorry" for Alves, drawing condemnation on social media.
Yet, in a press conference a day later, he took a different stance.
"I would like to clarify what I said yesterday about the Alves issue. Maybe I was not clear enough with my words and it is important that I explain myself," he said.
"It is a pretty thorny topic, and I ignored the subject victim a bit. All these acts have to be condemned, whether they are committed by Dani or anyone else."
"I do apologize to the victim and all victims of gender-based violence and rape."
"Having said that, I feel sorry to hear that Dani may have done this," he added, carefully rephrasing his stance.