What will this year's Sant Jordi festival look like?
Amid constantly evolving coronavirus measures, this year's celebration of romance and literature won't be like a normal year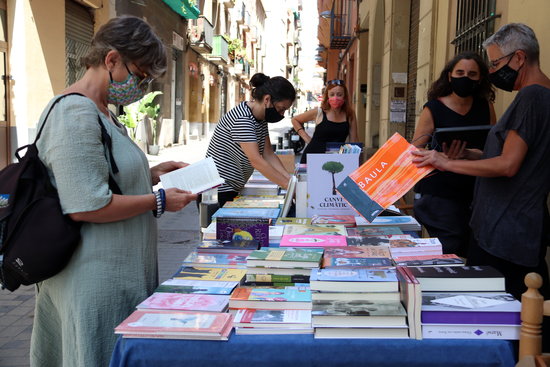 The day of Sant Jordi, or St George's Day in English, celebrated on April 23, is one of the most important traditions in the Catalan calendar.
Saint Jordi is the patron saint of Catalonia, and the day is one of the biggest celebrations of romance and literature in Catalonia, with people usually gifting each other roses and books.
In any normal year, it would be common to find hundreds of authors sitting at stalls lining some of the busiest streets of Catalan cities and towns waiting to meet and greet the public, as well as countless red roses adorning the facade of the emblematic Casa Batlló on Passeig de Gràcia.
Last year, Catalonia was in the midst of one of the world's tightest lockdowns during the first wave of the pandemic, and as such minor Sant Jordi celebrations were enjoyed on July 23 instead.
This year, the measures in place to curb the spread of the coronavirus are looser than last April, but still limit what can be done on the day. The latest restrictions, announced on April 7 and in effect until April 19 at least, prevent people from leaving their county of residence, meaning that people will not be able to travel to the Catalan capital for Sant Jordi in the event that this measure is extended further.
So, what will Sant Jordi 2021 be like?
This year's Sant Jordi will see festivities last not one, but five days. Bookshops and rose sellers will be allowed to set up their stalls between April 21-25, on the condition that every establishment has one staff member dedicated to ensuring all the safety measures are correctly applied.
Cultural events will be allowed to take place, but only with limited capacities and controls in operation to guarantee everybody present is able to safely distance themselves from one another.
Catalonia's civil protection body is also calling on organizers to decentralize events and hold them in outdoor, open-air locations.
Stalls will be allowed to sell books and roses but they must maintain safety distances of at least two metres from one another. However, only publishers, bookstores, and florists will be allowed to set up stalls, and not other entities as is often the case in regular years.
The stalls will also have to have separated entrances and exits to avoid people crossing each other and will have to guarantee safety distances for the public too.
Stalls for authors to meet the public and sign autographs will also be permitted, but as well as respecting the outlined measures for general stalls, surfaces will have to be cleaned frequently.
Authors are also requested to decentralize their stalls to avoid crowding. City councils across the country are working on making open public spaces available to host stalls and celebrations instead of the usual, large, centralized areas.
New spaces in Barcelona
In the Catalan capital, where the largest festivities are normally found, Passeig de Gràcia is typically at the centre of the celebrations.
This year, there will be stalls on the famous commercial street in Barcelona, but authorities have also designated various other outdoor spaces to host book and rose sellers.
The Arc de Triomf and Plaça Reial will also be some of the sites of this year's Sant Jordi.
It will be a "less euphoric" day, but one which "without a doubt" will be celebrated according to the president of the Publishers' Guild of Catalonia, Patrici Tixis.
Tixis explained that a section of Passeig de Gràcia will be closed and that in Arc de Triomf and Plaça Reial there will areas to browse books and for authors to sign autographs. The association also expect to announce "4 or 5 more" extra sites to host stalls.