Txarango call it a day after 10 years with final album and tour
One of Catalonia's most popular bands brings "an intense journey" to an end with a series of concerts blending music, circus and theater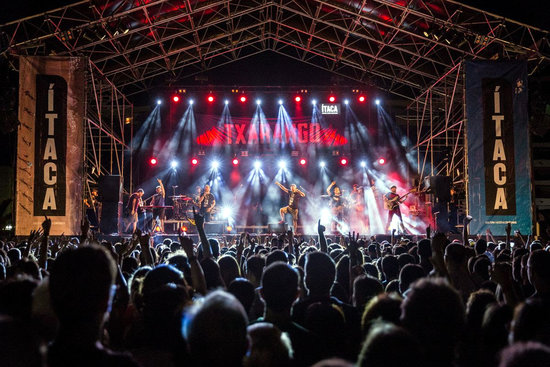 After 10 years of strutting the stage, Catalan music group Txarango are calling it a day with a final album and tour that will "close out the journey," in the words of lead singer, Alguer Miquel, who announced the band's retirement on Twitter.
Txarango, one of Catalonia's most popular bands of the past decade, intend to go out with a bang, launching a farewell tour in the spring to accompany the release of their fourth and final studio album under the Halley Records label.
Yet, Txarango's farewell tour will not be the run-of-the-mill series of concerts, but until February 2021 will offer shows mixing music and performing arts inside a circus tent, and featuring the collaboration of director, Lluís Danés.
Describing Txarango's 10-year career as "an intense journey, full of challenges and learning," the band say they want to bid farewell, "singing and dancing to celebrate a life shared with all those people who have made this dream possible."
Tour of 16 towns between June and February
Starting on June 12 in the city of Vic, the band will visit 16 towns in Catalonia, the Balearic Islands and Valencia, including Barcelona on July 3 as part of the Cruïlla Festival, and ending in Catalonia's northern provincial capital of Girona on February 27.
Txarango also want to avoid the tour becoming too commercial, with initiatives such as allowing the admin charges for tickets to be donated to social projects, and the food and drink at the concerts to be supplied by environmentally aware cooperatives.
The authors of such well-loved songs as 'Una lluna a l'aigua' and 'Compta amb mi' are now recording their farewell album, to go along with their previous three records: 'Benvinguts al llarg viatge' (2012), 'Som Riu' (2014), and 'El Cor de la Terra' (2017).
Txarango are also behind the Clownia festival, which is held every year in Sant Joan de les Abadesses in their home county of Ripollès. The group will play the festival named after an imaginary place of cultural celebration for the last time on June 26.
In fact, the group aims to capture the celebratory spirit of the festival for their farewell tour, which will include circus and theater performers, as well as "many friends from the world of music." Tickets for the tour went on sale on Monday.