Arts Santa Mònica opens new immersive exhibit on legendary singer Lluís Llach
Barcelona contemporary art venue will host exhibit celebrating half-century of musician's career until March 2020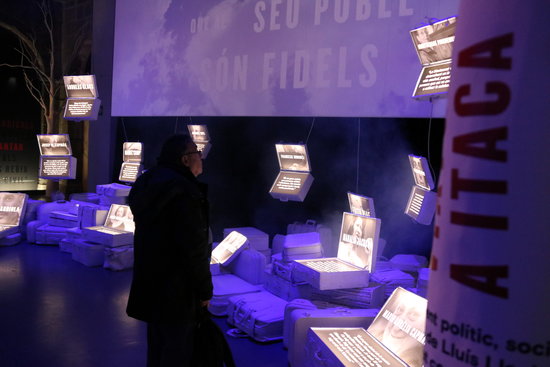 Barcelona's Arts Santa Mònica contemporary art center has opened a new immersive exhibit on the life and music of legendary Catalan singer-songwriter Lluís Llach, which visitors will be able to enjoy until the end of March 2020.
Among the high points of curator Lluís Danés' 'Com un arbre nu' (Like a naked tree) exhibit celebrating the half-century of the musician's career are a 3D recreation of the musician playing the piano or a room dedicated to what is quite possibly Llach's most famous song, 'L'estaca' (the stake).
Danés explained that the exhibit, which was organized with Grup Enderrock, is intended to serve as "a journey through the objects and places his songs conjure" rather than provide a chronological overview of the artist's work.
Llach and the 'Nova Cançó'
Lluís Llach came to fame in the late 1960s as a member of the 'Nova Cançó' (New song) artistic movement promoting Catalan-language music in Francoist Spain.
His popular protest song 'L'estaca' about overthrowing the dictatorship is still sung at many pro-independence marches 50 years later.
The song has been translated into many different languages and was even sung in Polish by Solidarity trade union members in the 1980s or in Arabic during the Tunisian Revolution of 2011.