Temporada Alta Festival Director: "If Catalonia was one big city, Girona would be its theatre quarter"
Salvador Sunyer, Director of the theatre festival Temporada Alta, is a great example of what defines an entrepreneur. He created the company 'Bitò Produccions' in Girona in 1992 along with two professional local actors who wanted to stimulate theatrical activities in the city. They immediately planned the creation of a new festival called the 'Temporada Alta' 24 years ago as a short cycle based on premieres, but it has grown at such a great speed that they have achieved a 90% occupancy rate every year since 2000. Last year they sold 94% of all tickets. Without a doubt, the Festival has become a point of reference in the sector, considered by experts as the best festival in Spain in terms of quality and pioneering spirit. For this reason, in 2010, Sunyer received Catalonia's National Theatral Award. Sunyer works hard to bring to Girona the greatest artists from the international scene as well as being a platform for presenting new local talents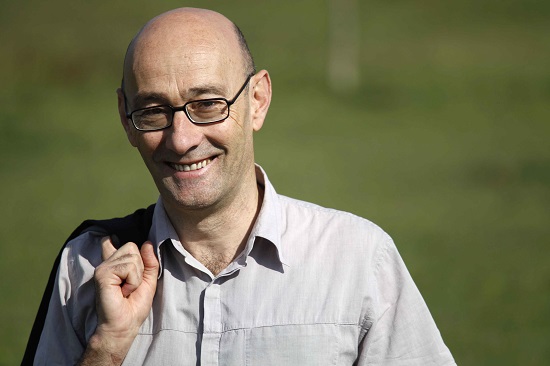 CNA (Girona).- Salvador Sunyer, Director of the theatre festival Temporada Alta, is more than a visionary. He founded the company 'Bitò Produccions' in Girona 24 years ago along with two local actors. They had one big challenge in mind: to change the cultural minority status quo of the city and put themselves on the theatrical map. To reach this aim, they planned the creation of a new festival called 'Temporada Alta' in a short time as a short cycle based on premieres, but it has grown at such a great speed since its first edition in 1992 that they have achieved a 90% occupancy rate each year since 2000. As Director of the Festival, he has achieved success. The 'Temporada Alta' Festival has become a point of reference in the sector, considered by experts as the best festival in Spain in terms of quality and a pioneering programme. As a result, Sunyer recieved Catalonia's National Theatral Award in 2010. He is still working hard to bring to Girona the greatest artists of the international scene as well as continuing to make it a platform for presenting new native talents yearly. During the last 3 year, the 'Temporada Alta' festival has also been held in Latin America; in Buenos Aires and Montevideo. Always with a big smile on his face, Sunyer is enjoying success in his fifties, and is ready to go even further.
Why did you create 'Bitò Produccions'? I'm sure Girona was not then the cultural capital it is today…
'Bitò Produccions' is 24 years old now. It was an initiative of Josep Domènech and Quim Massó, people involved with the professional theatre world in Girona and they decided to set up business. The first edition had just four proposals in its programme and a €6,000 budget. Apart from the local theatre, there was just one group called 'El Talleret de Salt' active then in Girona.
What stood out most in that 1st edition?
Our offering grew with the increasing support of sponsors. I can remember that in the 1st edition our subtitle was 'Four funniest shows'. We created new performances and after a while we contracted shows coming from abroad. The festival itself has grown so much that it has become the most important in Spain for the critics. Our budget is now €2.8 million, 24% of which comes from tickets sold and sponsors. This is unusual in Europe and is perhaps the key to our success.
Why did you focus your efforts on the international scene?
Temporada Alta festival has three main central pillars. It acts as an entrance door for international plays, because in this world if you aren't cosmopolitan, you don't exist at all. Secondly, we cooperate in productions premiered in the festival that after being shown for the first time at the Temporada Alta are ready to travel and perform around Catalonia. And thirdly, we are a bridge between the Catalan scene and both the national and international stage.
In addition, we hire producers and programmers from abroad. Without going any further, in the 2014 edition we had shows from 20 different countries which meant 35% of our shows. If we take into account Spanish shows, this number would be 50%.
Just between you and me, what stands out this year?
For me,'Le Coup Fatal'stands out the most in terms of dancing. In a classical context, I would say 'The Suit', Jan Fabre's latest play, and 'Tebasland' from South-America. And I can't forget 'Flacoman' by flamenco dancer Israel Galván, Romeo Castellucci's work and Shantala Shivalingappa and Ferran Savall's improv concert mixing dance and music live.
Was there any artist you wanted to bring to the festival and couldn't?
Every year there are some plays we would like to bring but we can't afford them or maybe they are touring in other countries and we can't agree on dates. But now we are at an advantage. The situation has turned completely: in the past it was hard work to contract international performers, now we only miss a few. We now produce a huge festival composed of 90 performances, and 35 to 40 of them are premieres.
As a part of the festival, you also produce your own performances and promote the exhibition of new local talents…
Yes, it's true. As producers, we work in coproductions such as 'Terra Baixa' starring Lluís Homar, the new show by dancer María Pagés and the improv concert from Shantala Shivalingappa and Ferran Savall which I mentioned before.
Correct me if I'm wrong, but inside the festival don't you also promote professional activities such as workshops and conferences with artists and writers from all over the world?
Apart from the performances there is also a programmers meeting with 70 people from 13 different countries. They basically come to see international shows coinciding with the week of contemporary creation. Artists have a unique opportunity to present future shows looking for financing or contracts. Playwriting workshops last three days and Catalan playwriters accept the challenge of adapting classics into Catalan language.
Could you explain what the 'Arts Lab' is?
The 'Arts Lab' is an ideas competition related to the creation of products around performing arts. The winners receive a cash award, and it works to create a cultural industry in Girona. We really want the city to take advantage of this stage arts atmosphere.
It's remarkable that the Festival has had a 90% occupancy rate for 14 years, and that the last edition even beat its own record with 94%, despite the 21% VAT tax. How is this possible? What is the secret of your success?
The audience attending the festival comes from many different places and this is increasing with each edition. It is a festival settled in Girona which includes local spectators mixed with people from the rest of Catalonia, Spain and the south of France, without counting the professionals of the stage world. Everybody who enjoys going to the theatre finds the show they are expecting. We do shows for children as young as 15 days old to stage classics. In the last edition, we had performances in 11 different languages with no problems because we used subtitles. This effort most definitely paid off.
Can you reveal what is coming up in the 2015 edition and maybe even a show or artist that will be in your next programme?
I wish I could! I can say that in the next edition in autumn 2015, the festival will be more international than ever. But, honestly, I can't give you more details because we are just beginning to work on that, there's nothing agreed for now.
Apart from the Festival, what activities do you manage as a production company? It is said that 'Bitò Produccions' is a heavyweight in the theatrical production sector in Spain…
'Bitò' is the second-biggest theatrical production company in Catalonia and also Spain. Every year we produce 6 to 10 of our own productions. In addition to this, we manage the Salt Theatre programme, and we tour with music projects, etc. But our basic activities are always our productions and the Festival, without a doubt. A month ago, four shows could be seen in Barcelona which were made by 'Bitò'. We are specialised in a kind of theatre between the public and the private, on the frontier of both.
What does working from Girona bring to the company?
Girona is a small, warm, inviting city and a contact point between the sea and the Pyrenees, the Dalí Museum in Figueres, and there is a good climate and great local cuisine! What else could one expect from a city? As you can see, medium-sized cities are always headquarters for great European festivals such as in the cases of Avignon and Edinburgh. These are all medium-sized cities, aren't they?
In addition, culture is a great economic motor for the city. It can attract people who want to stay here in our hotels and eat in our restaurants. We get grants, that's true, but we also help in the promotion of 7,000 new jobs. Our work can be defended by the Town Hall.
Girona has been called the 'City of Festivals' because it embraces 21 cultural festivals annually. Do you think this influx of festivals is favourable to the city?
Definitely yes, it is beneficial to Girona for one simple reason: it puts the city on the map. The festival always gets good exposure in newspapers across Spain and Catalonia, usually 2-3 days' worth during the three months that the festival lasts. From time to time, we can also see exposure in the international press and people link Girona with positive concepts. It stimulates foreign visitors and contributes to the improvement of the country's economy at the same time. To end the interview, we have one last meaningful question. There are great shows in Barcelona, but there are also great ones in Girona! In a small country like Catalonia, we must see the country as a big city, and Girona is a neighbourhood specialised in theatre. For people who enjoy this art, it has to go arm-in-arm with the'Grec' festival, the Catalan national theatre, and theatre in order to promote it and continue even further together into the future.