Sónar announces C. Tangana, Lyra Pramuk, and Bonobo for its 2022 edition
Barcelona's music festival releases its third line-up before June's event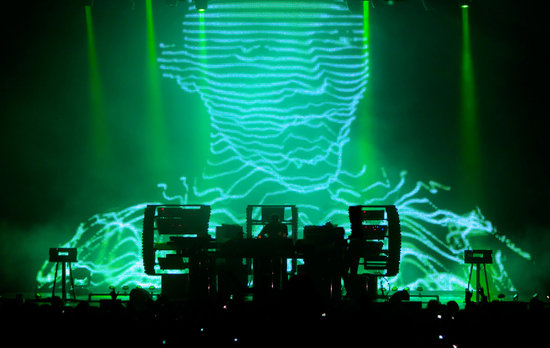 Barcelona's Sónar electronic music festival announced Spanish rapper C. Tangana among other artists on its third line-up presentation. The event, which will take place from the June 16 to June 18, has also confirmed musicians Lyra Pramuk and Bonobo.
C. Tangana will be the biggest act at the Sónar de Nit, the night festival from Friday to Saturday, playing his new album 'El madrileño'. On Tuesday, the organizers confirmed that Moderat and The Blaze will also perform on the same day.
The night will also see the likes of The Chemical Brothers, Arca and The Blessed Madonna on stage. All of them were confirmed during previous line-up reveals. The Chemical Brothers were supposed to attend the 2021 edition of Sónar before it was called off.
Headie One, a British rapper that is reinventing the genre, will also be traveling to Barcelona, as organizers revealed on Tuesday.
Bonobo will introduce his latest album, Fragments, while Lyra Pramuk, a north-American composer, and vocalist, will bring her "Echoluminescene" show to the Catalan city.
Barcelona will be represented by the city's rapper El Bobe, accompanied by Seville's artist Juicy Bae and Basque DJ Brava.
Other artists confirmed for Sónar 2022 are Eric Prydz, Nathy Peluso, Tiga, Hudson Mohawke, Princess Nokia and Arca, among many others.
Sónar de Dia gets a new set
Daytime Sónar will celebrate diversity and new ideas and styles. SonarPark by DICE will become the new set for the festival to showcase a more radical and innovative music.
The day festival will host up and coming artists that represent new global musical languages. A multicultural and diverse line-up, like London producer and DJ Vegyn that mixes dance-electronic, sophisticated pop, and glitch-hop, a US music style that mixes glitch, hip hop, and dubstep.
Back to summer after an October event
Sónar 2021 was canceled three months before the event was due to take place, which led organizers to present AI and Music Festival, a new Sónar celebrated in October, focused on the integration of artificial intelligence and music.
The Summer edition was called off because "case numbers, mobility restrictions, and the lack of applicable legislation for the organization of large events made the celebration of the festival in the conditions required unviable," a statement on the festival's website reads.
Sónar Lisbon in April
Event organizers announced the first edition of Sónar Lisbon, which will take place between April 8 and April 10, 2022.
The Festival will see The Blaze DJ set, Thundercat, Polo & Pan, Charlotte De Witte, DJ Nigga Fox, Floating Points, Nicola Cruz, Ellen Allien b2b Dr Rubenstein, Enchufada Na Zona, Eu.Clides, FJAAK Live, Héctor Oaks, Iamddb, Jayda G, Kampire, Nídia, Pongo and DJ Stingray 313 Live; among many others.