Primavera Sound 2023 tickets go on sale
First time music festival in both Barcelona and Madrid on different weekends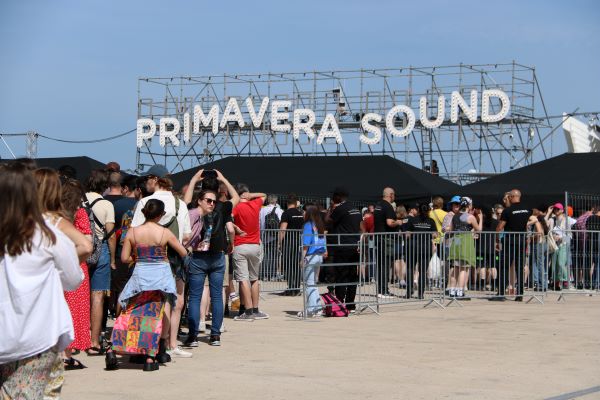 Tickets for the 2023 Primavera Sound music festival went on sale on Friday - if you attended the 2022 event, that is; people who didn't go this year will have to wait until July 5.
For the first time ever, festival-goers get to choose between attending the Barcelona or Madrid events, as next year's show will take place between both cities on different weekends.
Tickets to one of Catalonia's most popular music festivals are now more expensive than before: for people who attended the 2022 festival, a three-day 2023 early bird pass starts at €195, while for others, the same ticket will cost €245 and only be available for purchase from July 5 to 7.
People who want to wait until the lineup is announced will have to pay at least €325, while basic tickets for the 2022 festival were €245 for one weekend and 425€ for both as the festival was exceptionally held over two weekends in Barcelona after a pandemic-related hiatus.
Primavera Sound 2023
Primavera Sound Barcelona will celebrate its 21st edition from June 1 to 3 at the Parc del Fòrum venue, while the main days of the first edition of Primavera Sound Madrid will take place from June 8 to 10 in Ciudad del Rock in Arganda del Rey.
Both locations will also run Primavera a la Ciutat, a complementary event with activities on the days leading up to the festival.
In Barcelona, these events will take place from Monday, May 29 to Wednesday, with the festival ending on Sunday, while in Madrid, activities will start on June 5.
These activities will "fully integrate the festival into the city" according to the organizers.
Two-weekend Primavera Sound 2022
2022 was the first time the event was held over two weekends as the city council and organizers agreed to offer more days to recover after the Covid-19 hiatus and to celebrate the 20th edition of the show in a unique way.
However, the first day of the festival was not the best return fans expected after the pandemic as some denounced on social media that it had been "dangerously oversold" and that there were "ridiculous queues" and "no access to water" at a "terribly organized" festival. And some complained to Catalan News that it was a "money grab."
In any case, just under 500,000 music fans – 220,000 the first weekend and 240,000 the second – attended the 20th edition of the festival, and the event organizers estimated Primavera Sound drew in €349 million for the city.
"It's the event that has the greatest economic impact on Barcelona after the Mobile World Congress," co-director Alfonso Lanza said.
Organizers have also confirmed they intend to stay in the city until at least 2027 after having previously suggested otherwise: "We're a festival from Barcelona," Primavera Sound co-director Gabi Ruiz said.