Pilot concert to be held on March 27 with 5,000 attendees and no social distancing
Catalan government and festival organizers launch event but will require audience to take antigen tests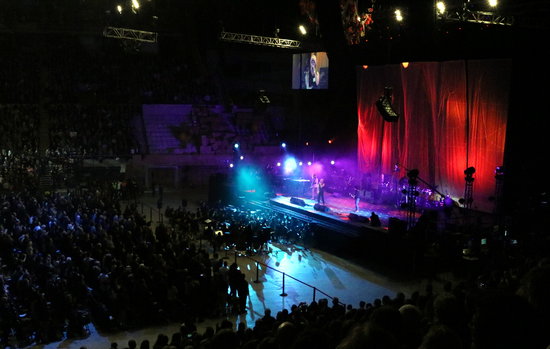 The Catalan government and festival organizers have announced a pilot concert in Barcelona's Palau Sant Jordi for March 27.
It will host an audience of 5,000 people (standing), with antigen tests for all attendees but no social distancing.
It will be the first mass concert in Catalonia since Covid-19 first struck the country a year ago in March 2020 and at the same time an experiment by Can Ruti hospital to look into rapid tests.
Local band Love of Lesbian will perform, and Catalonia's main festivals will take part in its organization, including Primavera Sound, Sónar, Cruïlla, Canet Rock and Vida.
"Today our recovery begins," said on Friday Cruïlla's director, Jordi Herreruela, during the presentation of the event.
Members of the Catalan government have expressed their support for the event, such as the Catalan Health Minister Alba Vergés who has "welcomed" the initiative, whilst also demanding a level of "caution".
Another member of cabinet, culture minister Àngels Ponsa, has said that the news of the concert helps to "see the light at the end of the tunnel".
How it will work
The attendees will have to take a rapid test and a screening in one of three spaces, either the Sala Apolo, Luz de Gas or Razzmatazz concert halls.
Everyone attending will need to have an IOS or android device in order to download the app for the tests.
Those testing negative will be able to take part in the event with a FFP2 face mask, but no social distancing will be required.
The area will, however, be divided into four spaces each hosting 1,800 people and there will be efforts made to avoid crowding at the entrance and exits.
Pilot concert in Sala Apolo with positive outcome
A pilot to experiment with rapid tests was held on December 12 in the capital's Sala Apolo venue, which hosted a 500-strong audience at a concert in October for a study organized in conjunction with Primavera Sound, the Fight AIDS Foundation, and Germans Trias i Pujol Hospital (also known as Can Ruti).
The clinical trial aimed to learn more about how to guarantee a safe environment for indoor events during the pandemic, as well as the effectiveness of rapid Covid-19 tests as a screening strategy.
The pilot included 1,000 people, but in the end only 500 who tested negative in PCR or rapid tests were picked to take part in the event.
The outcome was that none of the concert-goers transmitted the virus.
Unlike the Sala Apolo experiment, the upcoming Sant Jordi concert is not considered to be a clinical trial, but rather a "commercial" event since organizers are already confident of its safety. Moreover, concert-goers will be Love of Lesbian fans instead of volunteers and they will not be tested after the event.
Tickets cost between €23-28 and sold out within a few hours of being announced.