Marta Pessarrodona wins Òmnium's Literary Lifetime Achievement Award
"Catalonia is a country of poetry," says the poet and writer on receiving 51st edition of prestigious prize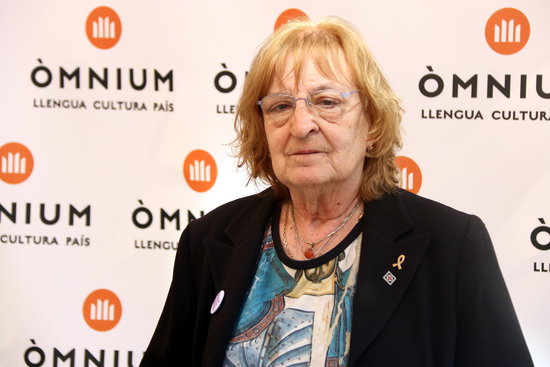 The poet, writer, translator and literary critic, Marta Pessarrodona (Terrassa, 1941), has won the 51st Premi d'Honor de les Lletres Catalanes, the Catalan Literary Lifetime Achievement Award given by the Òmnium Cultural organization.
She is only the sixth woman to have won such award.
Pessarrodona received her prize in an event in the Casa Golferichs civic center in Barcelona, although the head of Òmnium, Jordi Cuixart, was unable to attend, as he is one of the independence leaders currently on trial in Spain's Supreme Court.
Pessarrodona's first poems appeared in 1968, in the 'Primers dies de 1968' collection, which was followed by 'Setembre 30' (1969), 'Vida privada' (1972) and 'Memòria' (1979). As an essayist, Pessarrodona has focused much of her work on the exiles from the Civil War.
Winner of Creu Sant Jordi
The poet is no stranger to awards, having already won in 1997 one of the highest civil distinctions awarded in Catalonia, the Creu Sant Jordi, as well as the National Culture Prize for literature awarded by the CoNCA national arts council.
At the event, the prizewinning poet insisted that "Catalonia is a country of poetry," and she read out a letter by Cuixart who said that not even prison "will ever stop the president of Òmnium Cultural from announcing this decision."