Jaume Plensa unveils 'Julia' sculpture in Madrid square
Two works by the Catalan sculptor are currently on display in the Spanish capital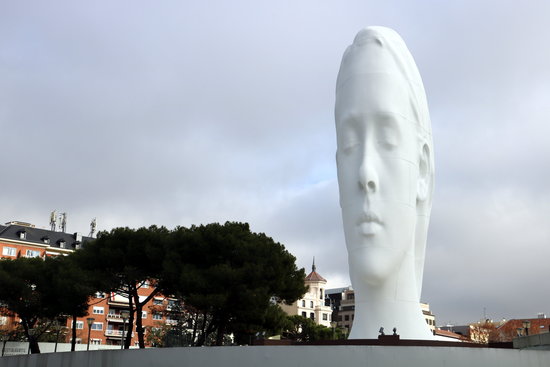 Julia is the name of a 12-meter high sculpture of a girl with eyes closed eyes by Jaume Plensa, which on Thursday was unveiled on a pedestal in Madrid's Colón square.
The sculpture, which was revealed at midday in the presence of the Barcelona-born artist, will spend the rest of the year on display in the square.
Plensa designed the sculpture specifically to replace the sculpture of Columbus, who the square is named after, which used to be in the same spot.
Julia is part of a joint initiative from the Cristina Masaveu Peterson Foundation and the Madrid city council to bring art to the streets of the Spanish capital.
"Tenderness and silence"
Plensa told the press that the sculpture is intended to represent "tenderness and silence," and that he hopes it will serve as a "mirror" to help recover a sense of serenity in society.
The Catalan sculptor has another of his works on display in Madrid, in the Glass Palace in the Retiro Park, and he said the two works together create a "very lovely duality."
The council project to promote art in public places will continue for another three years, with other works that, as with Julia, will be chosen by public vote.