Human towers rise high in California
Vilafranca 'castellers' group brings long-standing Catalan tradition to Golden Gate Bridge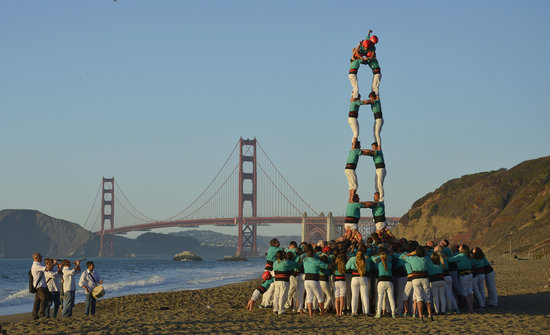 A Catalan human tower group from Vilafranca has headed west to the Golden State, where they performed with one of the most iconic emblems of San Francisco, the Golden Gate Bridge, in the background.
The group of around 180 people, known in Catalonia as 'castellers', have moved to Baker Beach, located near the Golden Gate bridge.
They managed to put together an eight-story tour on Wednesday near the Marimar Estate wineries in the Sonoma region, before heading to Baker Beach where they compiled a seven-story tower and successfully out-angled the Golden Gate Bridge in the background.
The group, who go by the name 'The Greens' in Vilafranca, also performed in various locations on Thursday - at Stanford University, Google's headquarters and most notablya match between NBA sides the Golden State Warriors and the Minnesota Timberwolves at the San Francisco Chase Center.
At the basketball game they performed two single-person four-story towers in the middle of the court, where they displayed an American flag and the Catalan flag.
What are human towers?
Declared Masterpieces of the Oral and Intangible Heritage of Humanity by UNESCO in 2010, Catalonia's human towers are one of the country's most unique traditions.
First documented in the 17th century, the stunt sees large groups - known as 'colles' - forming tiers of differing numbers of people standing on the shoulders of those below them.
A human tower is only complete once a child called the 'enxaneta', who can be as young as five, clambers to the very top of the structure and raises their arm.
'Castells' will often come crashing down, although the 'castellers' have their own human safety net in the dozens of team members supporting the tower's base, otherwise known as the 'pinya'.
There are 'colles' in towns and cities all over Catalonia, each with their own colored shirts, that spend months practising at building the tallest and most complex human constructions.