First music festivals without social distancing held in Catalonia
Attendees at Vida and Canet Rock wore face masks and were tested for Covid-19 before entry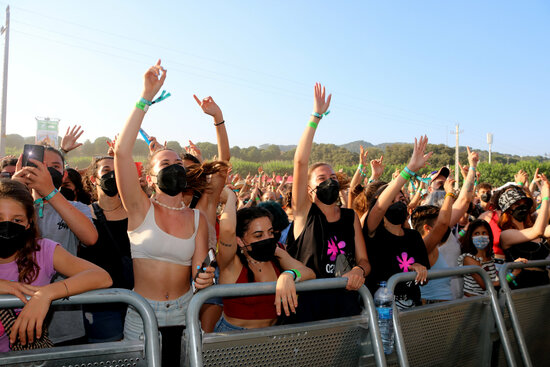 Music festivals Vida and Canet Rock took place this weekend without social distancing in place - the first music festivals in Catalonia to go ahead with a pre-pandemic feel to them.
All attendees wore face masks and everybody was tested for the coronavirus with antigen tests before entry, but distances were not required and fans danced and sang together in close proximity for the first time in many months.
Vida finished its seventh edition with 27,200 attendees at the Vilanova i la Geltrú festival, located south of Barcelona.
It was the first major festival to take place in Catalonia since the start of the pandemic without social distances.
After a very complicated first day on Thursday due to the long queues to take an antigen test and the problems arising from the Test Vida application, the festival rethought the testing system for Friday and Saturday and fans were able to proceed without incident.
Hosted on the grounds of the Masia d'en Cabanyes country farmhouse, Vida saw forty concerts on four stages, with artists such as Vetusta Morla, The New Raemon with Paula Bonet, Nathy Peluso, Stay Homas and Love of Lesbian performing.
The festival has already announced some acts that will perform at the 2022 edition, including alt-J, Belle & Sebastian, Parcels and Black Pumas.
In the coming days, the organizers of the Vida will provide the data of positives detected during the screening of entry to the festival.
Meanwhile, at Canet Rock, audiences buzzed to Suu's party pop sounds and the rhythms of Stay Homas in the festival held in Canet de Mar, a seaside town just north of Barcelona.
Around 21,000 people were in attendance and 152 positive tests were discovered before the festival kicked off, according to organizers. Large queues to get tested of around an hour were seen at the start of the day.
Stay Homas are a group born out of the pandemic, as they formed and rose to fame on their rooftop in the Eixample neighbourhood of Barcelona, singing songs that had the aim of lifting spirits and encouraging safety practices in the first wave of the pandemic.
on Friday and Saturday