Exhibition curated by fashion designer Jean Paul Gaultier visits Barcelona
French designer explores ties between cinema and fashion at CaixaForum museum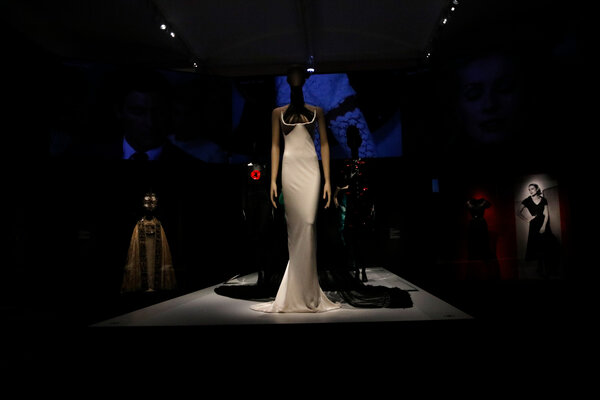 From Brigitte Bardot's dress in And God created woman to Marilyn Monroe's sequined outfit in Gentlemen prefer blondes, 'Film and Fashion', the latest exhibition curated by French "haute couture" designer, Jean Paul Gaultier, will open its doors to the public on Wednesday and it will run until Sunday, 23 October at La CaixaFórum Barcelona.
With more than 250 pieces, the exhibition takes the visitor on a journey through posters, photographs, and garments that explore the close relationship between cinema and fashion.
The clothes on display include the nude sequin gown worn by Gael Garcia Bernal in Bad Education and the costumes worn by Victoria Abril and Rossy de Palma in Kika. It features works by other prestigious designers such as Coco Chanel, Yves Saint Laurent, Pierre Cardin, and Sybilla.
The art expo taps into the evolution of male-female bonds, female emancipation, modernity within clothing, gender in cinema, eroticism, and power roles. "The terrible child of fashion emphasizes key aspects such as female empowerment, paying attention to heterodox figures of warriors, as well as the influence of rock, punk, and queer cultures that have marked fashion in recent years", said the organizers.
The exhibition is dedicated to the memory of filmmaker Tonie Marshall. It also pays tribute to Mae West, Marilyn Monroe, Marlon Brando, Brigitte Bardot, and Jane Fonda, celebrities that, according to Gaultier, revolutionized the codes of cinema and sexuality.
Before coming to Barcelona, Film and Fashion made its debut in Paris, and then Madrid, captivating the audience.
The ties between cinema and fashion have always been strong. Many dresses worn by film stars have transcended into iconic pieces of fashion archival. In Gaultier's case, some of his most showstopping designs on set include the costumes for Kika (1993), The Fifth Element (1997) and The Skin I Live In (2011)
The show is organized by "la Caixa" Foundation and La Cinémathèque française and the tickets are available online for 6 euros.
More Caixa exhibitions
This season, Caixa Foundation will host a total of 11 exhibitions, including one about the work of the Belgian René Magritte and new exhibitions on inventor Nikola Tesla. It will also host a Symphony installation, described as a journey into the heart of music.
CaixaForum is an art gallery and museum located near the National Palace on the slopes of Montjuïc hills that attracts hundreds of visitors each year. The current Caixaforum Barcelona was once an extraordinary industrial building.
This place is the crossroad where historical architecture meets modern architecture. It hosts temporary exhibitions, a permanent site dedicated to modern Catalan art, as well as interactive screens for visitors.