Cigarette-eating fungi and sound-engineered plants on display at Sónar+D
The technology wing of the electronic music festival shows off hundreds of mind-bending installations, exhibitions, and innovations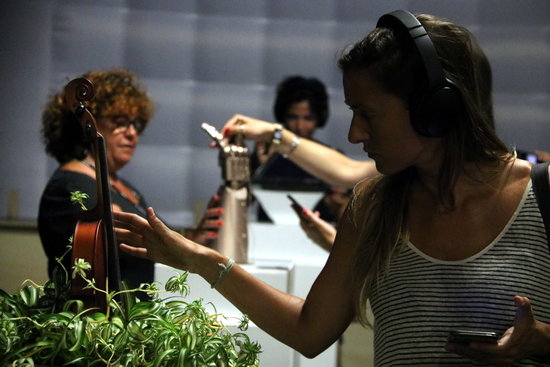 One of the most experimental and exciting music festivals in the world kicks off this week in Barcelona. Sónar 2019 will see thousands of people from around the world come to the festival's venues - one for Sónar by Day, one for Sónar by night - to enjoy electronic music, techno, and rap, as well as the many creative installations and attractions that push the boundaries of what a music festival can be.
Sónar is almost as much of a technology festival as it is a music festival, exemplified perfectly by the latest crown jewel feature on display at Sónar by Day - the Sónar360 immersive dome; a 360-degree stage 19 meters in diameter that takes visitors on a range of mind-bending audiovisual voyages.
On display in the dome are seven different experimental shows that play with themes of perception, cosmology, artificial intelligence, reality, and extraterrestrial landscapes. Created in collaboration with Mediapro, many of the spectacular shows are being shown to audiences for the first time ever. International artists from Japan, France, England, Germany, and more, have contributed to these creative audiovisual pieces.
Visitors lie down on the floor, made comfortable with beanbags and pillows, and enjoy the artistic voyages on a screen too big to be able to concentrate on the entirety of the spectacle at any given time. Sónar360 is just one of the fusions of technology, creativity, and art on display, as the Sónar+D is an entirely separate wing to the festival, running in parallel with the music.
Among the various exhibits on display is a device that teaches a fungus to grow by feeding on used cigarette butts, sound-engineered house plants that can be used to create beats from sampling, and musical tattoos that reverberate from the shapes of the tattoo and can change in pitch and range if combined with other tattoos.
Conversations, installations, and workshops will fill the festival's program. Among the list of speakers are Robert Del Naja, leader of English band Massive Attack, Holly Cummins, a leader in the field of quantum computing and IBM ambassador, and Tega Brain and Sam Lavigne who will give a masterclass on machine learning. All in all, around 200 artists and experts will give talks and performances at the celebration of technology, creativity, and innovation.