Barcelona's New Year's Eve party to return after two-year hiatus
City launches festive campaign: 'Barcelona, the Stage for Christmas'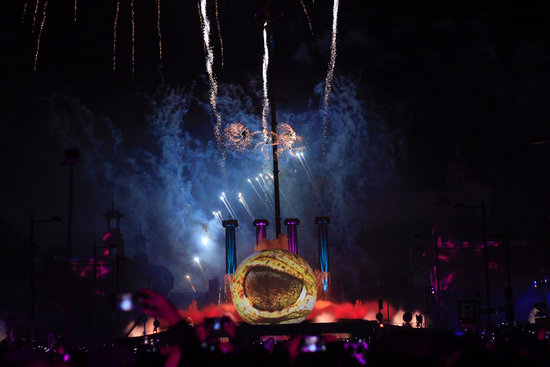 Barcelona's big New Year's Eve bash will make a welcome return to Avinguda Maria Cristina this year after a two-year hiatus due to pandemic restrictions.
There you can join the thousands of locals and visitors alike who gather at the foot of Montjuïc to ring in the New Year with music, fireworks, cava and of course, a dozen grapes – one for each chime of the clock at midnight.
The street party is just one aspect of the city's seasonal celebrations to look forward to, as revealed on Wednesday when Barcelona City Council, together with Visit Barcelona, launched its Christmas promotional campaign under the slogan, 'Barcelona, the Stage for Christmas'.
The city is aiming to position itself as a major European destination for Christmas and attract more tourists from places like France, Italy, the United Kingdom and Spain. In fact, in Madrid, the campaign ad will be projected on giant screens in the city center's Callao Square.
'Barcelona, the Stage for Christmas'
"At Christmas time Barcelona becomes a huge stage that's open to everyone to surprise and delight," the campaign ad says.
The Catalan capital's cultural credentials are at the fore of its offering: "Lights, dance, circus arts, Christmas markets, visual arts, concerts all over the city, and activities in shops and markets."
The campaign also emphasizes that the whole of the city will be a stage, with performances "spread out across Barcelona" and "surprises waiting around every corner."
"New perspectives"
The first deputy mayor of Barcelona City Council, Jaume Collboni, said that the campaign presents a broad view of what Christmas is in the city, "including shopping, culture and hospitality" and seeks "to reach out to visitors looking for new incentives and new perspectives to come to the city."