Aid to be provided for businesses affected by Sant Jordi storm
A dozen stalls run by publishing houses and bookshops in Barcelona, Sabadell and Badalona most affected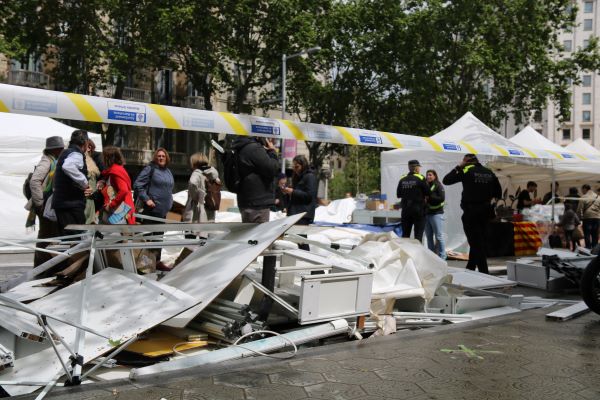 Businesses who had stalls damaged by the Sant Jordi storm on Saturday will be eligible for aid, as was announced on Monday after a meeting between the Catalan Minister of Culture, Natàlia Garriga, the Cambra del Llibre (an association bringing together various businesses in the publishing sector), as well as the Booksellers' Guild of Catalonia.
These include ten stalls of publishing houses and bookshops in Barcelona, one from Sabadell and another from Badalona.
The committee's first task will be to look for solutions for those stalls that "could not continue to work" and had books "destroyed" to see if some can have some sort of "second use".
"From there, we will assess what to do," added Patrici Tixis, president of the Cambra del Llibre, who described the meeting with the government as "very positive".
According to Garriga, who described Sant Jordi as the "most wonderful" festival in Catalonia, the aid could be evaluated by comparing it with the turnover from 2019, although has not yet been confirmed.
This will all be agreed in the coming weeks, said the minister, when the complete analysis of the effects caused by the rains becomes available.
A "good" Sant Jordi
Despite the intermittent rain and one-off hailstorm, thousands still took to the streets on Saturday to buy roses, books and have some titles signed by their favorite authors.
The sector is confident that, pending the complete data, the turnover of this "bittersweet" Sant Jordi will be similar to that of 2019 and that, without the storm, it would have been "the best in history".
The editor said that if the weather had not interfered, "we would probably be talking about the best Sant Jordi in history."
Despite this, in the event of a bad weather forecast for the day itself, moving festivities to any day, as well as celebrating the holiday indoors have both been ruled out. "Sure there are ways to improve it, but finding an alternative space and a plan B to move it all day before, I think would be difficult, but we can think about it," Tixis admitted.
Listen to our latest podcast to learn more about these traditional bookshops.