Thousands take to the streets of Barcelona to celebrate Sant Jordi
Literary superblock in city center features stands selling books and roses for loved ones to exchange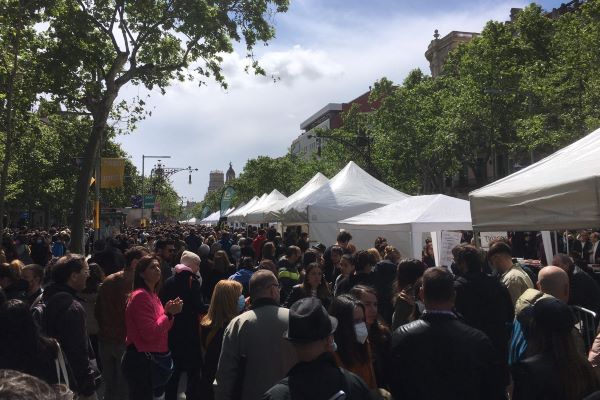 You have to wrestle through the crowds once again on Passeig de Gràcia boulevard to see the thousands of books and roses on sale for Sant Jordi, as this year marks the first time that the Catalan capital has hosted restriction-free festivities for the occasion since the pandemic began.
In fact, a vast area of the Eixample neighborhood has been closed off to traffic, with the avenues and boulevards normally populated by cars fill up with pedestrians for the day.
🌹 | Sant Jordi 2022 kicks off restriction-free since 2019

Hundreds of book and rose stalls line the streets of Barcelona to celebrate the patron saint of Catalonia

More: https://t.co/5wwPI0VfsI pic.twitter.com/TNqbm5w2cm

— Catalan News (@catalannews) April 23, 2022
Book lovers are also waiting in long, snaking queues to have their favorite titles signed by the authors, from Youtubers to politicians to journalists, who can be found dotted about the over 300 stands in the city.
Even outside the main hub of the celebrations, people walk about clutching roses that their loved ones have gifted them to express their endearment.
Those attending the festivities initially breathed a sigh of relief, as an initial forecast for rain turned out to be just clouds with some sunlight peeking through every now and then.
📚 | Authors and journalists sign books for fans for #SantJordi

Lengthy queues of avid readers line Passeig de Gràcia hoping to meet the authors of their favorite titles #BooksAndRoses

More: https://t.co/5wwPI0VfsI pic.twitter.com/Kg0aS8sl2R

— Catalan News (@catalannews) April 23, 2022
However, within just a few minutes the clouds closed in and the bright sunshine turned into heavy rain and even a hailstorm, as attendees rushed to take shelter in businesses, doorways, and under awnings, while book stalls desperately covered their books to protect them.
After a few minutes the clouds dispersed, yielding more sunshine, bringing people back to the stalls and resuming festivities, before another, less heavy shower arrived, which thankfully went away.
Despite the changeable weather, vendors and visitors alike were enjoying the day. Patricia Martín, editorial director of publishing company Flamboyant told Catalan News that they were "so happy, it's been non-stop since 9 am, and people are buying so many books, not just one, so [they] are very happy".
🌧 | Sudden but expected rain and hail interrupts Sant Jordi celebrations in Barcelona

Attendees go from wandering the streets to taking shelter next to buildings in a matter of minutes

More: https://t.co/auZNwsmCS0 pic.twitter.com/pKb5e8HG0Q

— Catalan News (@catalannews) April 23, 2022
🎥 | Heavy rain quickly changes to aggressive hail for a few minutes in Barcelona during #SantJordi

Businesses allow those on the street to wait out the storm inside

More: https://t.co/auZNwsmCS0 pic.twitter.com/nTeK9s9Kuo

— Catalan News (@catalannews) April 23, 2022
The rainfall didn't stop the superfans from abandoning the queues to have their favorite books signed, as was the case with Rocio, who waited two hours in the rain to meet Ángel Martín but said it was "definitely worth it" adding that she would "wait for another two or four more hours if need be"
The authors in attendance were delighted to see their fans, and to finally be back after two years of Sant Jordi heavily restricted by the pandemic. "I came in 2019, so this is my second Sant Jordi as an author, and I'm delighted to be here sharing it with fellow readers", said Journalist, TV presenter and author, Sandra Sabatés.
Listen to our latest podcast on Sant Jordi.