A women's revolution, art from the Belarus protests comes to Barcelona
Female-led activism is center of exhibition running from February 5 to 23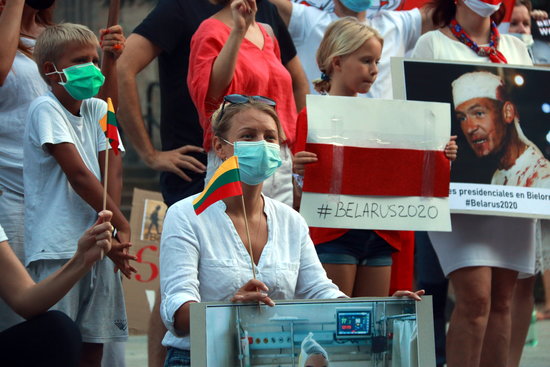 The Belarus revolution has a woman's face: so goes the title of the exhibition at Begemot in Barcelona. Running from February 5 to 23, the art installation explores the ongoing protests in Belarus and the art that has been born from the conflict.
RAZAM, the Belarus association in Catalonia, has set up art installations in the small studio in the center of the city that, despite its size, leaves a lasting impression.
Belarussia, a landlocked country in eastern Europe, has been under the dictatorship of Alexander Lukashenko for the past 26 years. In August 2020, Lukashenko ran and was re-elected as the country's leader for a sixth term, sparking protests throughout the country.
Peaceful activists were met with suppression, prompting a moving protest of women stepping out on the streets of their country dressed in white and holding to call for an end to violence.
"We wanted to do this exhibition to show people what Belarus has been like and what Belarus currently is." explained Anna Mikhalchyk, a RAZAM associate, to Catalan News.