Worry as Covid-19 surges ahead of Christmas holiday
Sharp rise in outbreak risk and R rate reported a week after long holiday weekend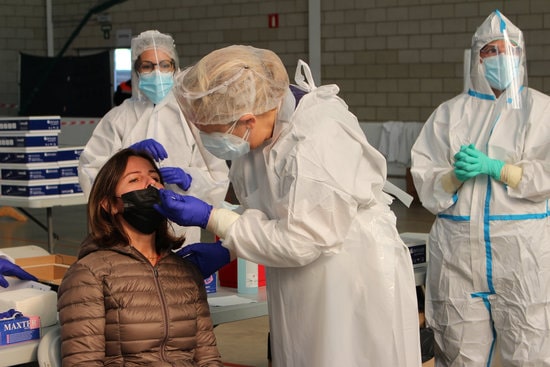 A week after the long bank holiday weekend, over which crowds of Christmas shoppers were seen in the center of Barcelona, Catalonia has experienced a worrying surge in Covid-19 figures.
The R rate, that is to say, the number of people infected per person diagnosed with the virus, has increased to 1.11 from 0.94 a day earlier, with the outbreak risk rising to 219—well above the 'high' threshold at 100. The number of hospitalized patients, as well as those in ICUs, because of the virus has also gone up.
This comes as the Civil Protection authority agreed to slightly ease measures by allowing shopping malls to open at 30% capacity from Monday and permitting travel within one's county of residence from Friday during partial weekend lockdowns, as well as greenlighting larger events as long as they have adequate ventilation systems in place.
Possibly loosening weekend mobility restrictions in the Barcelona region to allow movement within the entire metropolitan area rather than only the county is also on the table three weeks after Catalonia began easing a number of regulations.
Christmas celebrations at risk?
Ten days before Christmas, when restrictions are set to be loosened further for the holidays if everything goes according to initial plans, there is some concern going ahead with them is not ideal given the current public health trends.
Usually only up to 6 people are allowed to meet up, but on key dates over the holiday period this is supposed to increase to 10, while on Christmas Eve and New Year's Eve, the curfew will be delayed to 1:30 and on the eve of Three Kings' Day or Epiphany, people will have until 11 pm to get back home. Restrictions regarding travel, care homes, and bars and restaurants are also set to be eased slightly on certain days.
Benito Almirante, the head of infectious diseases at Barcelona's Vall d'Hebron hospital, urged Catalan and Spanish authorities to reconsider their planned Christmas restrictions regarding social interactions as well as businesses.
According to Almirante, authorities should "not wait until next Monday" to make a decision. "People need to understand what they can do," he said, arguing that measures should be taken over a week in advance and be in place for at least three or four.
"We will not hestitate to act. We follow [Covid numbers] worriedly. We don't like the rise in cases, hospitalized patients and ICU rates." added the health minister Alba Vergés.