WHO head in Europe: 'I congratulate Catalonia on very impressive vaccination figures'
Hans Kluge praises that 85% of those eligible have received at least one dose as government presents health plan for next 4 years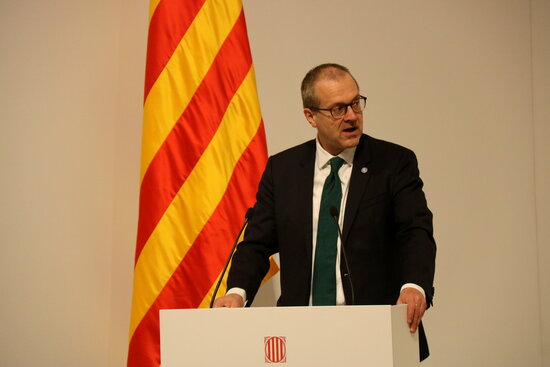 The World Health Organization (WHO) Regional Director for Europe, Hans Kluge, has praised the Covid-19 vaccination rollout in Catalonia.
During the presentation of the Catalan government's health plan for the years 2021 to 2025, held in Barcelona, the official said: "I congratulate you, most honorable president, on the very impressive figure of more than 85% of people above the age 12 now have been vaccinated. Congratulations to the government and to the people."
Indeed, those above the age of 12 are the only ones eligible, and out of those, 85% have received at least one dose, with 73.3% receiving two, while 83.5% are considered fully immunized as of November 9, 2021.
A total of 5,995,905 residents have been given the first dose of the vaccine, 75.8% of the total population, and 74.5% are considered to be fully immunized also taking into account all inhabitants.
Kluge said that Catalonia has led "a highly successful vaccination plan" and added that it is an "example" of good practice.
Yet, the senior official for the WHO also warned of a worsening of the pandemic situation across the globe, especially in countries with low vaccination rates.
"If we stay on this trajectory, we could see another half a million Covid-19 deaths in Europe and Central Asia by February 1 next year, and 43 countries in the region will face high to extreme stress in hospital beds at some point through the same period."
In Catalonia, the pandemic situation is slightly worsening, but at a far slower rate than the European average, which also has a lower vaccination rate.
2022 budget
During the health plan presentation, President Aragonès reminded that the 2022 budget, if approved, will mean a significant surge in the allocation for health policies –half of the extra €5 billion in the new spending plan will go to the health (29%) and education (20.1%) departments.
Overall, if implemented, the budget would mean an all-time high in terms of public expenditure, with €38.1 billion, also including significant increases in the funds allocated to gender policies, climate action and culture – 74.6% of spending will be allocated to social policies, a new record high.