Spain extends flight restrictions from UK, Brazil and South Africa
Exceptions for citizens and residents of Spain and Andorra and some in international transit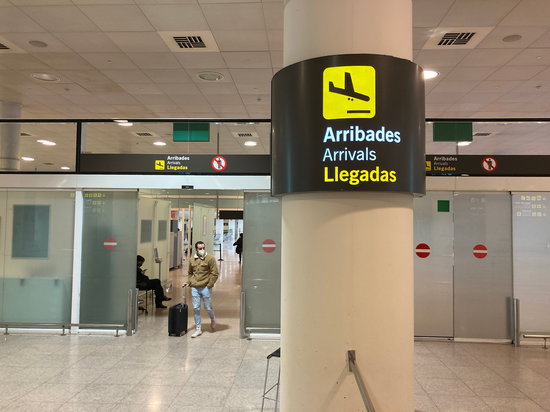 The Spanish government has extended the restrictions on flights between Spain and the United Kingdom, in place to prevent the spread of the British variant of Covid-19.
At a cabinet meeting on Tuesday, it was agreed that the latest extension will last until 6pm on March 16. Flights from the UK were originally suspended on December 22.
Only flights with Spanish and Andorran citizens or residents or passengers in international transit to a country outside the Schengen area are permitted.
Flight restrictions with South Africa and Brazil have also been extended due to the coronavirus variants discovered in those countries.
Since Monday, arrivals from Brazil and South Africa also have to quarantine for ten days, or for seven days if they produce a negative PCR test.
Variants detected in Catalonia
On February 17, Catalan health officials reported that one third of newly discovered coronavirus cases in Catalonia were of the British variant, and they expect it to make up a majority of cases by mid-March.
The first patient in Catalonia diagnosed with the South African variant of Covid-19 was confirmed on February 4, while the first possible cases of the Brazilian variant were discovered on Wednesday.
The three strains are reported to be more contagious than the initial strain of Covid-19.
Land borders closed
Catalonia's land borders remain shut, with exceptions for health emergencies, commuting to and from work or school, and to take care of dependent relatives.
Overland travelers to France must present a negative PCR test to enter the country, with exceptions for cross-border workers and residents of border areas.
Travel restrictions are also in place on the land border between Spain and Portugal until March 1 at least.
PCR tests for international arrivals
Spain requires travelers from countries severely affected by the Covid-19 pandemic to present a negative PCR test upon their arrival.
In order to be allowed into Spain by sea or air, visitors will have to demonstrate they have tested negative for the virus within 72 hours prior to travelling.
The full list of countries affected is published on https://www.mscbs.gob.es/ and on https://www.spth.gob.es and is updated every two weeks – every new update comes into force seven days after being published.
Here's the latest list of countries (valid from February 22 to March 7):
EU-EEA countries
Austria
Belgium
Bulgaria
Croatia
Cyprus
Czechia
Estonia
Finland
France (except for the islands of Guadalupe, Reunión and Martinique)
Germany
Greece (except the Anatoliki Makedonia Thraki, Dytiki Ellada, Dytiki Makedonia, Ionia Nisia, Kentriki Makedonia, Kriti, Notio Aigaio, Peloponnisos, Sterea Ellada, Thessalia, Voreio Aigaio and Ipeiros regions)
Hungary
Ireland
Italy (except the Valle D'aosta/vallee D'aoste region)
Latvia
Liechtenstein
Lithuania
Luxembourg
Malta
Netherlands
Poland
Portugal (except the Azores)
Romania
Slovakia
Slovenia
Sweden
Non EU-EEA countries
Albania
Andorra
Argentina
Aruba
Bahrain
Belarus
Bolivia
Bosnia and Herzegovina
Botswana
Brazil
Cape Verde
Chile
Colombia
Costa Rica
Cuba
Dominican Republic
Eswatini
Falkland Islands
Georgia
Gibraltar (United Kingdom)
Guernsey (United Kingdom)
Israel
Kuwait
Lebanon
Malaysia
Maldives
Mexico
Moldova
Monaco
Montenegro
Morocco
North Macedonia
Pakistan
Palestine
Panama
Paraguay
Peru
Puerto Rico
Qatar
Russia
Saint Lucia
Saint Martin (The Netherlands)
Saint Vincent and the Grenadines
San Marino
Serbia
Seychelles
South Africa
Switzerland
Tanzania
Tunisia
Turks and Caicos
Ukraine
United Arab Emirates
United Kingdom
United States of America
Uruguay