Health department encourages vaccination among ages 20 to 49 with ads in Tinder
Individuals without Covid jab almost 5 times more likely to end up in ICUs, remind authorities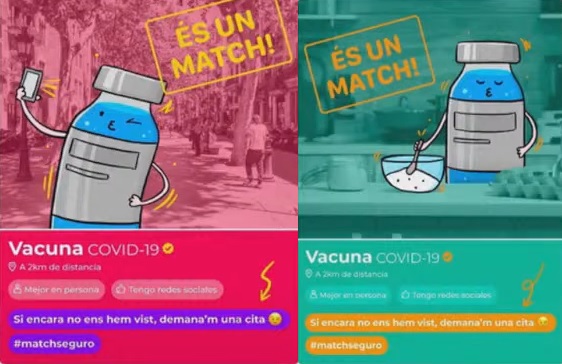 The Catalan health department has launched a campaign to encourage vaccinations especially among the ages 20 and 49 in the dating app Tinder.
Around 15% of those in their forties have not received the Covid jab yet, and some 20% in their twenties and between 35 and 39 are also unvaccinated – a figure that rises to 25% among those aged 30 to 34.
The initiative began last week, as announced by the public health secretary Carmen Cabezas in her weekly press conference, and will last until January 12.
For the first time ever, the Catalan government uses this social media network for their efforts to reach out to the public.
The ads simulate a profile in Tinder for the Covid-19 vaccine, including pictures of a dose taking a selfie or cooking, and include a message calling on the public to access the site vacunacovidsalut.cat to book an appointment: "If we have not met each other yet, do ask me for a date," it reads.
During her press conference, Cabezas also reminded that individuals without a Covid-19 jab are 4.6 times more likely to end up in ICUs – among those above the age of 50, the figure rises to 7.2 times, and people 70 or over who have not had any jab compared to those who received the booster shot, the risk of needing intensive care is 15 times more.
During her press conference, Cabezas also explained that 98.8% of the new Covid cases were omicron in the final week of 2021.
Covid-19 positives eligible for booster shot after one month
Answering to reporters, the official said that those under 65 infected during the sixth wave will be able to get their booster shot one month after the transmission, and not six, which is the standard for unvaccinated people.
On Wednesday afternoon, a vaccination strategy update released by the Spanish government mentioned the same criteria, as long as six months since the last dose administered have gone by – three if the shot received was AstraZeneca or Janssen.
2% of positives are reinfections
Other figures she revealed include the number of people who were transmitted the disease more than one: 28,402 out of the 1,405,702 positives as of January 4 – 2% of the total, which raises to 8% among people with active infections. Therefore, this means that 1,377,300 different individuals have at some point had to cope with Covid-19.
332 residents in Catalonia have been found positive three times over the whole pandemic, and one person, four times.
During the press conference, Cabezas also reminded that positive results in self-tests can be reported not only in primary care centers and via La Meva Salut app, but also in pharmacies. During the two days this last system has been in force, 9,453 people have reported their positive result in chemists.
3.3% health professionals on sick leave due to Covid
The public health secretary also said that Catalonia "has not reached the peak of the sixth wave yet," but this may happen next week.
At the same time, she reminded that the public health system is overloaded, especially the primary care, with 138,500 visits to centers only in the past two days – at the moment, 3.38% health professionals in Catalonia are on sick leave due to coronavirus.