Daily Covid-19 cases in Catalonia exceed 30,000 for first time
Incidence rate continues on the rise, but transmission rate and outbreak risk begin to decline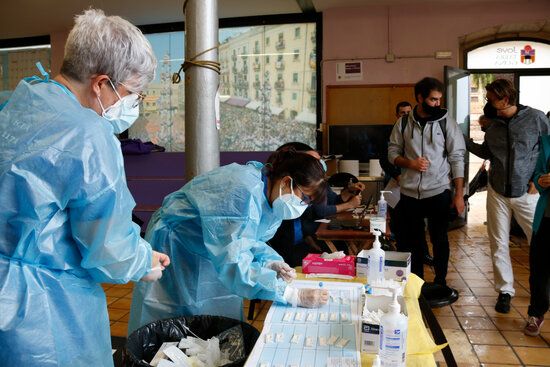 Daily Covid-19 cases in Catalonia have exceeded 30,000 for the first time, according to figures published by the Catalan health department on Wednesday.
Some 32,556 new positives were detected on the previous day, the all-time high surpassing the previous record set the day before.
The growth in transmissions continues to be exponential, as new daily cases increase ten-fold compared to just a month ago.
As of January 4, 2022, official figures, released daily on this website, state there have been 1,405,702 confirmed Covid-19 cases (PCR tests and others including antibody tests) – the country only reached the million cases two and a half months ago.
As a result, the incidence rate in the past 14 days has also skyrocketed in the past few weeks, with an all-time at 2,846 cases per 100,000 inhabitants as of yet.
Hospitalizations approaching 2,000
Yet, it is hospitalizations what concern most authorities, who said earlier this week that the public health system is "overloaded" at the moment – but has not been brought to a standstill because it is very "resilient."
As of January 2, there are currently 1,856 hospitalized patients and 468 ICU patients in Catalonia – in earlier stages of the pandemic it had been said that if the figure reaches 600 patients in intensive care, other medical appointments have to be postponed.
The numbers have been increasing since November 5, 2021, when there were 312 in the hospital and only 78 in an intensive care unit – this figure is still lower than that of the fifth wave, at 2,292 hospitalized on August 1, or the third wave, at 3,038 on January 24, 2021.
Indicators anticipating future trends begin to fall
Yet, indicators that always first anticipate future trends in Covid waves already seem to have peaked, and have begun to decline.
For instance, the outbreak risk indicator peaked at 4,232 on January 2, and has dropped to 3,852 over the following two days.
The outbreak risk (or iEPG, calculated by multiplying the average spread of the virus over the past seven days by the cumulative incidence over the past two weeks) is considered to be low at 30, moderate at 70, high at 100, and very high at over 200.
Likewise, Catalonia's Covid-19 transmission rate peaked on December 30 at 1.88, and has since then gone down up to 1.39 on January 4 – this indicator shows the number of people infected per person diagnosed with the virus. A transmission rate of over 1 concerns health authorities.