Health authorities believe Covid-19 third wave peak is 'very close'
Hospitalizations and patients in ICUs to continue on the rise, but increase in transmissions beginning to slow down, says government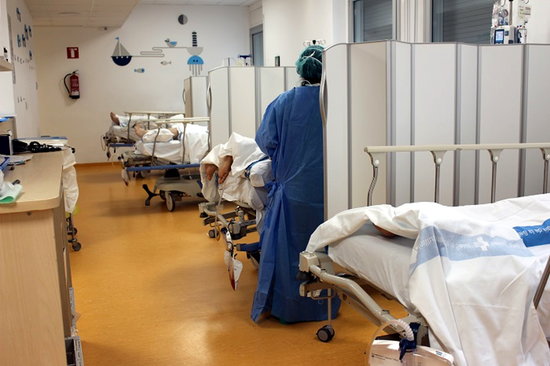 The third wave of Covid-19 seems to be close to reaching its peak in Catalonia.
Catalan health authorities said on Monday that they have observed that the pace of new transmissions is beginning to slow down, and that other figures, such as the percentage of positives in PCR and antigen tests is decreasing.
Indeed, the outbreak risk, calculated by multiplying the average spread of the virus over the past seven days by the cumulative incidence over the past two weeks, has decreased over the past few days from 794 to 709 as of January 18.
Yet, this figure is far from ideal, as the outbreak risk is considered to be low at 30, moderate at 70, high at 100 and very high at above 200.
The transmission rate, measuring the amount of new transmissions per person positive for Covid-19, peaked at 1.39 on January 16 and decreased in the past two days to 1.15 – this means that for every 100 positives, 115 more get the disease. Authorities aim to bring this figure under 1.
Yet, Jacobo Mendioroz, the Covid-19 unit coordinator, said that hospitalizations and ICU patients will continue to grow for some days – in the past wave, these two figures were the last ones to decrease.
According to him, those in hospital due to the pandemic could surpass 4,000 – now at 2,788, whilst the peak of the second wave was at 2,793.
As for patients who will be admitted to the ICU, they are likely to reach 700. Now, the figure stands at 590, almost the same levels as the peak of the second wave, at 597. Yet, in the first wave, the most pressure experienced in the ICUs reached 1,529 admissions.
As well on this, on Monday, the Spanish health emergencies coordinator, Fernando Simón, estimated that the third wave was "very close to its peak" across Spain.
He argued that figures show it "very clearly," despite also pointing out that the rate of transmissions will still be high for the coming days, as well as the number of deaths, because they are a result of the new cases of a few weeks ago.