Court rejects renewed attempt to extend curfew in Catalonia
Government blocked from reimposing measure in Barcelona and 60 other towns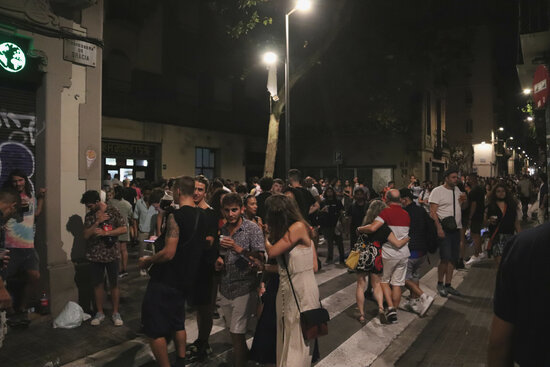 The High Court of Catalonia has rejected a renewed government attempt to reimpose a night curfew in Barcelona and some 60 other municipalities.
As of today, only 19 towns meet the epidemiological criteria for the 1 am to 6 am ban on non-essential mobility.
Last Thursday, the High Court decision to authorize the curfew in only 19 towns out of 148 requested by the Catalan government came as a blow to regional authorities. After issuing yet another request on Friday, the measure was once again rejected by the court on Monday.
"We need tools to help us curb infections," Catalan president Pere Aragonès insisted after the court announced its latest decision. "If we have 460 people in ICUs and over 1,400 hospitalized patients, [a curfew] is not a matter of public order but of health."
"We will, of course, do what we can with the tools we have at our disposal but we cannot make up for decisions that the High Court should be making," he said.
As some Covid-19 measures, including the curfew and the ban on large social gatherings, limit fundamental freedoms, they require judicial authorization for authorities to be able to implement them.
While the 10-people limit on gatherings remains in place, as well as a 70% capacity cap on religious events, the High Court claims that the epidemiological situation in Catalonia no longer warrants the curb on night-time mobility in most towns.
The nightly stay-at-home order was reintroduced in July as Catalonia battled the fifth wave of the pandemic, with skyrocketing contagion rates caused by the Delta variant that left medical centers in a "critical" situation.
The High Court set a 7-day municipal incidence rate of 250 Covid-19 cases per 100,000 inhabitants as the criteria for enforcing the curfew. The government's attempt to lower the threshold for larger cities and towns was rejected.
Curfew currently in 19 towns
Here is the full list of municipalities under a 1 am to 6 am curfew:
Alcarràs, Amposta, Arenys de Munt, Badia del Vallès, Balaguer, Banyoles, Calafell, Celrà, Cervelló, Gelida, Manlleu, Martorell, Montblanc, Móra d'Ebre, Palafolls, Salt, Sant Feliu de Guíxols, Sarrià de Ter and Torroella de Montgrí.