Children to go back to school on January 10 as planned despite Covid incidence
Spain and regional governments decide to keep usual return date after Christmas break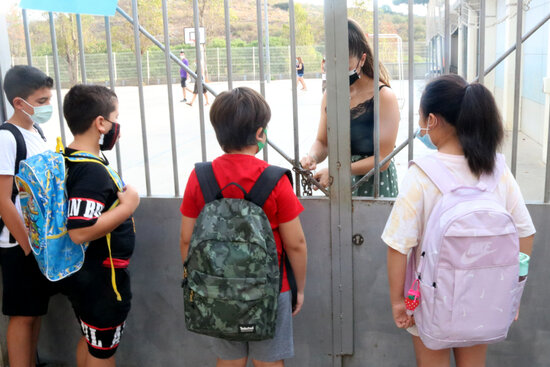 Children in Catalonia, and across Spain, will go back to school on January 10 as originally planned despite the exceptionally high Covid-19 incidence rate over the past few weeks.
The Spanish government and regional cabinets decided to keep the usual return date after the Christmas break in a meeting held on Tuesday.
Spain's health minister, Carolina Darias, emphasized that the decision had been made "together in a coordinated and shared way" with regional executives.
"It is important to speed up the vaccination rollout and strengthen the agreed protocols, such as using face masks in school playgrounds," she added.
Children aged 5 to 11 have been able to receive their first jab from December 15, and so far 25.5% of the 565,000 individuals falling into this age group have already been vaccinated.
They are administered pediatric Pfizer doses that are a third of the amount for people over 12, and they have to wait for eight weeks before receiving their second dose.
Protocols remain same
The protocols will remain the same as those in force since the beginning of the 2021-2022 academic year.
"Schools have proved to be safe," said on Tuesday the Catalan government spokesperson, Patrícia Plaja, who added that the current protocols "work well."
These include frequent ventilation and face masks in the classrooms, and also in the playground when kids are playing with students from other school bubbles.
Also, unvaccinated children aged 12 and over will have to self-isolate for seven days if another student from the same school group tests positive – meanwhile, those with two doses will not have to be confined.
As for those up to the age of 11, they will have to self-isolate for a week in any case – whenever children in the 5 to 11 group are fully vaccinated, they will be able to not quarantine in case of a positive in their group.