Spanish court won't block transfer of jailed pro-independence leaders to Catalonia
Defendants allowed to await the verdict in prisons closer to home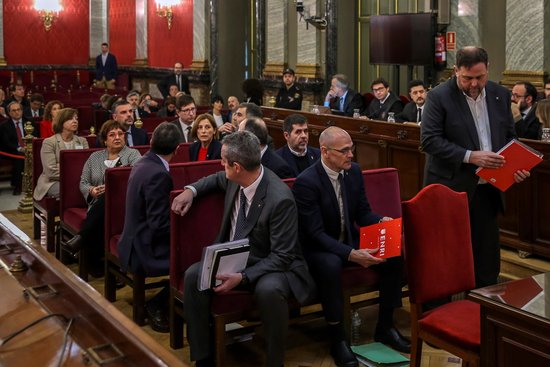 Spain's Supreme Court will not prevent the transfer of defendants in the Catalan independence trial to prisons in Catalonia pending the verdict.
The decision comes after four months of hearings in Madrid, in what has been regarded as one of Spain's most important trials in decades.
The defendants denied charges of violent rebellion, sedition and misuse of public funds for seeking independence from Spain in the fall of 2017.
Nine of the 12 politicians and activists who were in the dock have been deemed flight risks and placed on remand, with grassroots campaigners Jordi Sànchez and Jordi Cuixart having already spent more than 20 months behind bars.
Amnesty International has repeated its call for their release until a verdict is reached amid opposition from Spain's public prosecutor, who urged the Supreme Court to keep them in custody. Judges have yet to rule on the matter.
Following the cross-examination of 422 witnesses, the senior magistrates are expected to continue deliberating over the summer months.