Òmnium claims 'state operation' aimed to criminalize its head after his arrest
Pro-independence civic organization alleges reports not admitted in Catalan trial show that Jordi Cuixart was only linked with violence after his indictment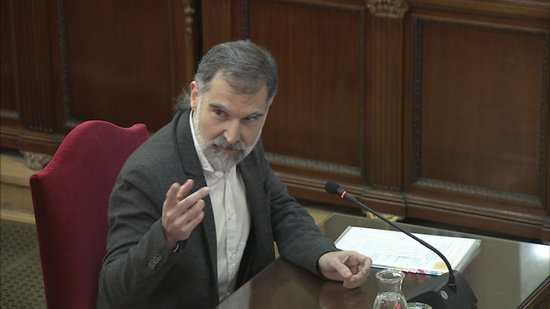 The pro-independence civic organization, Òmnium Cultural, insists there was a "state operation" to criminalize its president, Jordi Cuixart, after he had been remanded in custody to face trial over the events leading up to the 2017 independence bid.
Òmnium says the Supreme Court did not admit as evidence two reports by experts analyzing the communications of organizations, political parties and the media, and the contents of Spain's main (non-independence leaning) newspapers on September 20 and October 1.
Cuixart is one of 12 Catalan independence leaders being tried for rebellion in the Supreme Court, but Òmnium claims that the expert evidence shows that its head was not linked with criminal activity or any violence in reporting online or in the media on those key dates.
According to the organization's vice president, Marcel Mauri, a "narrative tailored to sway the Spanish and international public" was later deliberately created that was "unconnected from the reality" of what happened in Catalonia in the autumn of 2017.
On October 16, 2017, a high court ordered Cuixart be held in custody to face trial for his involvement in protests on September 20 against Spanish police raids aimed at halting the unilateral referendum on independence held on October 1.
Accusing the Spanish authorities of conducting a "media operation" against Cuixart, Òmnium says the rejected reports also show that most references to violence mentioned in online and media communications on those days refer to the actions of the Spanish police.