Constitutional Court magistrate withdraws from referendum case
Defense had requested Cándido Conde-Pumpido's recusal for 2017 comments stating independence push was "illegal"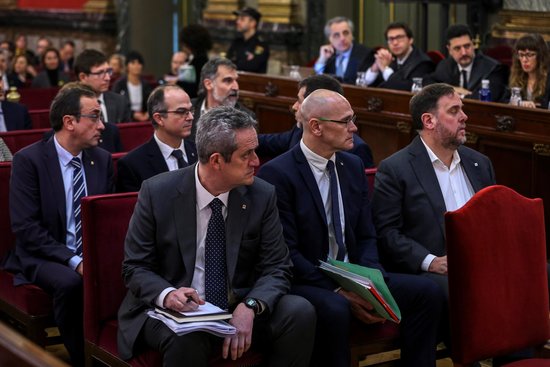 A Spanish Constitutional Court magistrate, Cándido Conde-Pumpido, has withdrawn from the 2017 Catalan referendum case.
On Wednesday, the judicial institution announced their decision in response to several appeals it has faced from pro-independence politicians and jailed and exiled activists regarding his potential partiality.
This comes after some of the officials requested his recusal arguing that shortly after the height of the independence crisis in 2017 he took part in a conference where he was not neutral and took for granted that their moves had been "illegal," also claiming misuse of funds.
Indeed, Conde-Pumpido said on November 23, 2017 in Spain's Congress that they had acted "outside the legal framework" and were "subverting the rule of law."
"They argued that they had a mandate coming from an election; the vote was to elect the regional authority, but they illegally turned it into a pro-independence plebiscite," he said.
Jailed leaders Oriol Junqueras and Raül Romeva, as well as exiled Carles Puigdemont, urged for his recusal in March in the appeals under discussion.
The former Catalan president also argued that Conde-Pumpido has a "close friendship" with public prosecutor Javier Zaragoza, who is also involved in the case.
Spain's Constitutional Court still has to have its say on the Supreme Court's decade-long sentences given to the nine officials convicted on October 14, 2019 – only after the magistrates rule on the issue will the jailed leaders be able to take their case to the European Court of Human Rights, as they intend to do. The Constitutional Court has already dismissed the appeals of Meritxell Borràs and Carles Mundó, who were convicted for disobedience, which did not carry time in prison.
Meanwhile, the same court also has to decide whether to lift the arrest warrant which hangs over exiled former cabinet members Puigdemont, Lluís Puig, Clara Ponsatí and Toni Comín.
Another Constitutional Court judge, Antonio Narváez, had already withdrawn from the referendum case.