'We hope it was worth it' - reduced Mobile World Congress comes to a close
Exhibitors present admit low attendance but some were able to make important contacts at the trade show anyway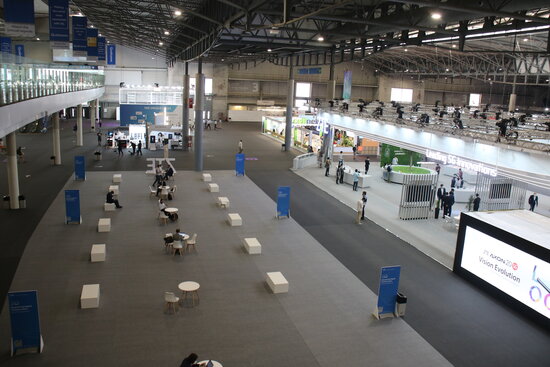 The first Mobile World Congress since the pandemic finished up on Thursday, with, as expected, a much lower attendance than any year previously.
A cold and strange atmosphere presided over the mobile technology trade show held at the Fira de Barcelona congress hall, despite being the largest indoor event of its kind since the coronavirus pandemic.
The fair played host to around 700 exhibitors including many innovative startups at the 4YFN section, and hundreds of speakers as well, with conferences and talks mostly taking place in person, but some held virtually as well.
All visitors were required to present a negative Covid-19 test to enter, while masks were worn at all times also. The fair expected around 30,000-50,000 people to attend, but has not yet reported on how many people visited and will do so in a report following the event.
Many giants in the industry long pulled their in-person participation at the fair, including Google, Facebook, and Samsung.
However, many international exhibitors came to Catalonia to take part regardless. "We haven't seen too many people, we have a very nice stand but not many visitors," Mateusz Debicki admitted, head of sales at Poland's MaxCom.
His company has been able to speak with "potential customers," and hopes some business will come from the congress. "Hopefully it will have been worth coming," he says.
MaxCom, which specializes in mobile terminals for seniors, had come to Barcelona for previous editions of the fair. "It's always good to try to find opportunities," Debicki explained to the Catalan News Agency, although he admitted his disappointment at not finding more success from his visit.
"It's pretty empty, other years in the morning the streets were overflowing and you couldn't move between the stands. Now there are few people, and it's the same ones that came the day before," he said.
One of the exhibitors at the Catalan government's stand was Brand Your Shoes, a company from Vic that prints company logos onto sports shoes. The company has designed for Google, Honda, Twitter and the GSMA itself, organizers of the Mobile World Congress, among many others.
Its director, Guillem Soldevila, says that this year's edition saw far fewer visitors compared to other years, both domestic and international.
However, he assesses the week positively and says he wanted to attend despite the restrictions. "We had to be here, I always say that the Mobile World Congress is the best thing that has happened to Catalonia and Barcelona since the Olympic Games."
The company's director also considers it "the most important technology fair in the world" that "acts as a bridge between the United States and Asia."
"We knew it was going to be a very different, post-pandemic Mobile World Congress with far fewer visitors and fewer people coming from abroad, but we wanted to put it on anyway," Soldevila said.
For South Korean John Choi, selected by the government of his country to travel to Catalonia, the opportunity to be present at the trade show was great in spite of the low attendance. "For now it's very worth it because we have had a lot of time to talk business with our customers," he explained to the Catalan News Agency.
In addition, the South Korean start-up which specializes in artificial intelligence, has been able to take advantage of MWC to meet with about 200 potential customers and other emerging companies. "It's a good opportunity to see how we can collaborate."
Hotels claim success
Hoteliers have described this year's edition as a "nuanced organizational success" in the face of the challenges posed by the health crisis.
"It has demonstrated and confirmed to the world that Barcelona is a safe and prepared business destination," said Manel Casals, general manager of the Barcelona Hotels Guild.
The association has highlighted the importance of business tourism, which they say is "essential and strategic" for the Catalan capital.
The entity has also publicly thanked the GSMA for its "unconditional" confidence in the city and its ability to safely host and organize this large international event.