Street sellers cooperative launches new 'ethical' sneakers collection
Union contrasts their 'Top Manta' product and with "exploitative" practices of major brands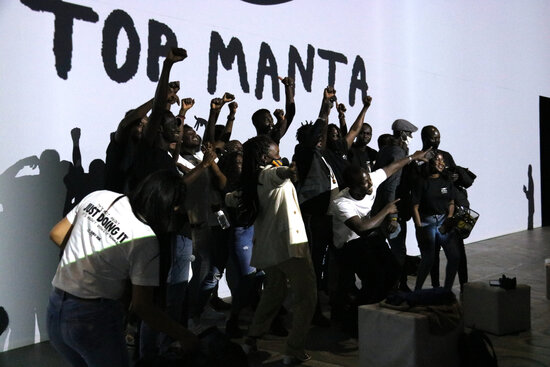 A cooperative of street vendors has launched their own collection of sneakers in Barcelona.
Top Manta, named for an expression used to refer to sellers who display their goods laid out on blankets, launched their latest product line at an event at the IDEAL Digital Arts Center in Barcelona's Poble Nou neighborhood on Tuesday.
Amid 360-degree projections of sand and sea representing migrants' journeys, representatives from the street sellers union contrasted their "ethical" product, with the "exploitative" practices of major brands.
A new range of sneakers was unveiled, under the brand name Ande Dem, which means Walking Together in the Wolof language, spoken by a majority of the collective's members, many of whom were born in Senegal.
The group say their "brightly colored, African" footwear was "born in Senegal and designed in Barcelona." It is manufactured in Spain and Portugal "without exploiting anyone."
They also made a not-so-subtle dig at the marketing campaigns of major sportswear companies such as Nike, displaying their alternative slogan – 'It's not about just doing it; it's about doing it right'.
Journey
At the launch on Tuesday, some of the group's members explained how, after making the dangerous journey from Senegal to Barcelona, they worked fourteen-hour days, facing racial discrimination, "criminalization, fines and prison."
It was against this background that they decided to "organize and fight" and the union was born. That was followed by the Top Manta fashion brand, first launched in 2018 under the unlikely motto of "Legal clothing made by illegal people."
Top Manta describes itself as an "ethical and social and brand, intent on changing society and bettering the lives of the most vulnerable."
A spokesperson said on Tuesday said that the launch of the footwear brand was "a day we've been waiting for for years, a day that's so important for us," but called on public administrations to address the institutional racism they face, citing the example of estate agents refusing to rent them properties.
The sneakers retail at €115 and are available online at www.topmanta.store or in the Top Manta store on Carrer d'En Roig in Barcelona's Raval neighborhood.