Ryanair confirms intention to close Girona airport base
Decision puts up to 164 jobs in Catalonia at risk, cabin crew responds with strikes through September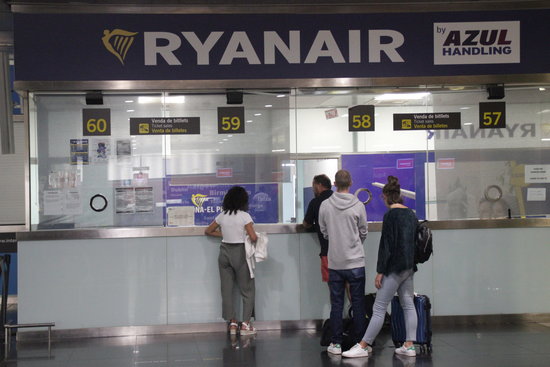 Ryanair has confirmed the intention to close the airline's base in Girona airport, after a meeting between the company's top officials and the secretary of the department of infrastructure and mobility of the Catalan government, Isidre Gavín.
After the meeting, which was held in Dublin, Gavín explained to the Catalan News Agency that the Irish airliner justifies the decision due to the falling profits from the decreasing activity in the market "at European level," and for the delay in the delivery of new airplanes. The delivery of the new model airplanes were halted because of security concerns.
They also explained that some airports, among them the Girona, "are not profitable in the winter season" and have underlined the fees that Aena, the management company of airports across Spain, charges to use its infrastructure.
If Ryanair goes ahead with the base closure in northern Catalonia, up to 164 workers are at risk of losing their jobs.
Industrial action
Unions have already announced ten days of strike for employees of Ryanair, responding to the threat of closures to defend their positions, as well as to demand better working conditions. So far, the first days of the strike have already passed calmly without much incident.
Ryanair was forced to cancel six flights coming in or out of Barcelona on Monday but were able to do so ahead of time, avoiding scenes of chaos in the airport.
This month's strike dates for Ryanair cabin crew are September 1, 2, 6, 8, 13, 15, 20, 22, 27 and 29. According to union sources, up to 512 jobs are at stake if the Spanish airport bases are shut.
Ryanair pilots in Spain have also announced days of strike for September 19, 20, 22, 27 and 29.
Should Ryanair close the northern Catalan base, it could have potentially dire consequences for Girona airport, as Ryanair bring the majority of activity through the installation.
Search for solutions
The decision on the bases to be closed, which also includes those of Tenerife South, Gran Canaria, and Lanzarote, "is not yet final" however, but will be taken over the next few weeks. Gavín remarked that he hoped that finally a solution can be found to "minimize the impact."
Thus, despite the fact that the government "is not the owner or manager of the airport," Gavín explained, the Catalan executive still wants to "lead the search for a solution to have an airport at the service of people and the country's economy."
In this sense, the department of territory and sustainability will now request to meet with Aena to know "what actions are planned to address the situation," with the goal of preventing Ryanair from leaving Girona.